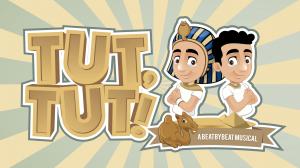 Monday, May 20, 2019 - 6:30pm
Wednesday, May 22, 2019 - 6:30pm
Skagit Academy presents their 24th musical drama show, TUT, TUT! Performances are May 20 & 22 at 6:30pm.
TUT, TUT! is inspired by the life of King Tut, the 10-year old who became King of Egypt, with a touch of Mark Twain's "The Prince and the Pauper". The story begins with a young Prince Tut who is bored of the royal life, so he wanders into the streets of the city looking for adventure. Suddenly he meets a peasant who looks just like him! They concoct a plan to trade places for three days. But when the King dies and Prince Tut must ascend the throne, their plan goes terribly awry. Join us as we sing, dance, and entertain.
Admission is free, so bring the whole family.