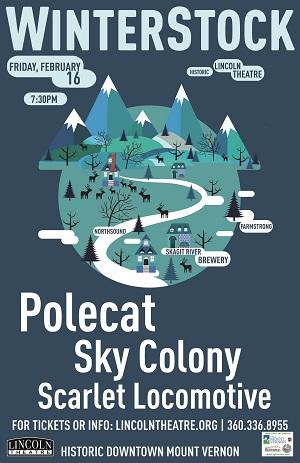 Friday, February 16, 2018 - 7:30pm
Advance General Seating Tickets: $15; $20 at-the-door + applicable fees. Lincoln Theatre Members receive a $2 discount!
Winter Blues got you down? The Lincoln Theatre presents an evening of high energy, foot stomping Americana; one that will take the chill away and get you up and moving with three of our favorite PNW bands.
Polecat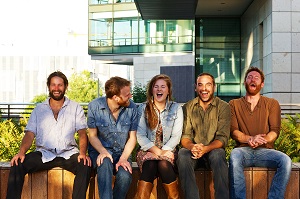 Polecat has traveled all over Northwest U.S., with 650 appearances and four albums in seven years. Their unique instrumentation and smart song arrangements enable them to seamlessly blend genres including Americana, celtic, rock, reggae, and world music into their sound. The general appeal of Polecat comes from their unique take on roots music and their interactive and high energy live shows.
Sky Colony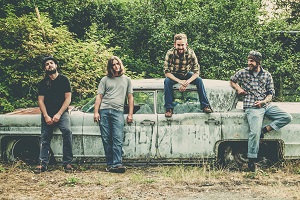 This "atmospheric rock" group of young veteran musicians are wholeheartedly focused on what matters most: the music, and more importantly the intention behind it. Since their creation in 2012, the meaning behind band's sound has been growing steadily and organically into one of personal empowerment and seeking truth. This in addition to complex instrumental layering, exact harmonies, catchy hooks, and classic guitar solos, you have the complete experience of Skagit Valley's own The Sky Colony.   
Scarlet Locomotive
The Scarlet Locomotive runs out of Bellingham, Washington and the Skagit Valley to parts unknown. The band is powered by fiddle, acoustic guitar, mandolin, and the shared vocals of Arielle Luckmann and Ted O'Connell. Call it "Americana" or "Story Music"—this duo thrives on songwriting. 
We will be featuring craft beer from our local Beermuda Triangle: Farmstrong, Northsound, and Skagit River Brewing Companies in our Art Bar!