Digital Futures Initiative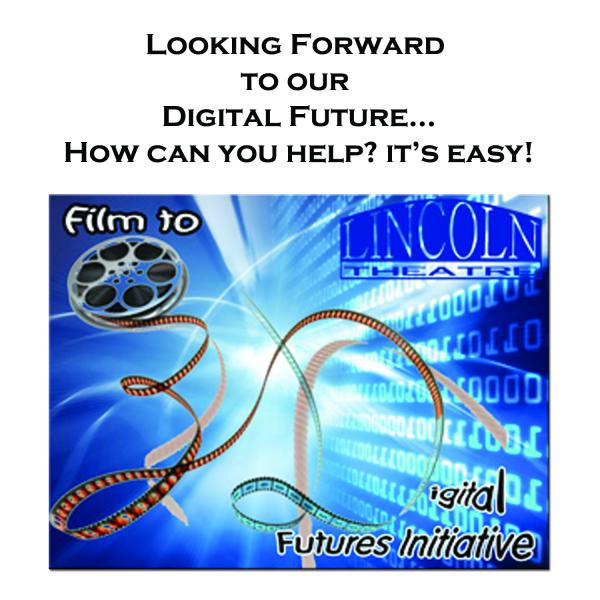 The Lincoln Theatre's Digital Futures Initiative
What is it? A funding campaign for the transition to digital projection as mandated by the motion picture industry. It will allow the Lincoln to show first run, art and independent films as it has for decades.
Why? This switch is not optional. Without it, the Lincoln's film programing will cease. Films account for 50% of our attendance and 33% of our operational income, so we cannot afford to let cinema disappear from the Lincoln.
How much? The Lincoln faces a total capital expenditure of $100,000. Such an investment cannot be funded solely through ticket price increases or normal operations. So we're asking the community to assist in this effort.
By when? The Lincoln must wrap up this campaign and install equipment in the fall of 2013.
How can you participate?
Drop a check in the "hat" as you leave the Lincoln Theatre after a movie or a performance.
Drop in to the ticket office (M-F 12—5) and pick up a pledge card. You can give us a check or charge your donation right then, or take it with you.
Tell your friends. We can't do this without everyone's help!
ACT NOW TO PRESERVE THE FUTURE OF CINEMA AT THE LINCOLN!!!
Thanks to our wonderful supporters we've reached our February and March funding goals by raising the $2500 needed to secure an additional $2500 in matching dollars for each month! Now let's see if we can do it again in April with a $1500 match!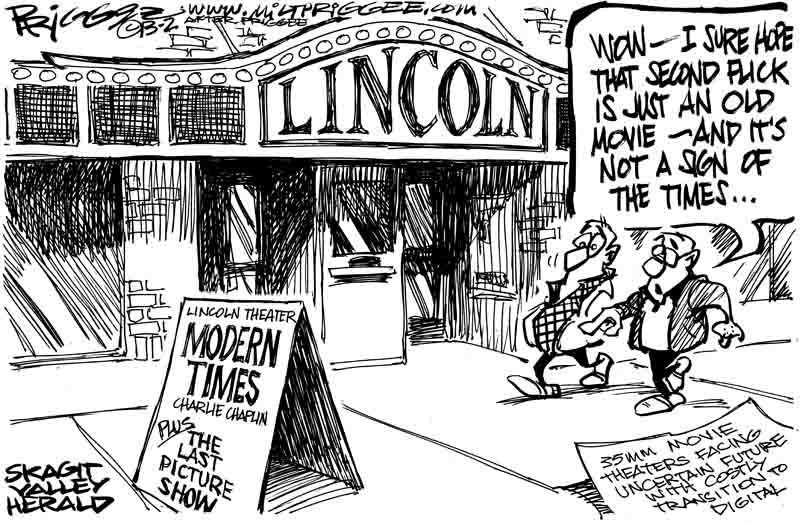 Personalized op-ed cartoon by Skagit Valley Herald cartoonist Milt Priggee.
For the full article from the Skagit Valley Herald, 1/23/13: LincolnTheatre kicks off campaign for digital
As of April 5th we've raised $76,263!
THANK YOU, THANK YOU
To these wonderful supporters of the Lincoln Theatre's Digital Futures Initiative!

Brenda Adair-Taylor & Phillip Taylor Marcia Anthony Barbara Baatz Wasserman & Larry Wasserman Judith Baker Helen Baumgartner Fred & Eva Beeks Joline Bettendorf Judy & Lyall Bishop Sarah Bishop The Boeing Company Robert & Nina Boudinot Patty Bowen The Brevoort Family Susan & Gary Brown Burlington Mid-Day Rotary The Brevoort Family Barbara Broton Janet Brynjolfsson Jaci Chamness Judy Chapman & Carl Johansen Alice Collingwood Joan Cross Barbara Day Sherry Day Marie-Claire Dole Camille Drotts Susan Duffy Diane Eiesland Jerry & Marilyn Eisner John & Marie Erbstoezer Mary Evitt Beverly Faxon & Doug Mills Carly Feiro Ron Feld & Lorna Klemanski Judy Gamble & Todd Wood Karen Gardiner Robert Gates Peter Goldfarb Richard Goldstein Kristine & Roger Goodan Gina & Dean Gray Jason Griffith Wil & Denis Harlock The Heflin Family Kathleen & Nelson Hoose Ray & Margaret Horak Gaylen Houser Carl Johansen & Judith Chapman David Johnson Brenda Johnston jim justice Louise Kelly The Kendricks Janna Marie Kilburn & Allan Sleeman Susann Krous Karen Krub Kristine A Kuhns La Conner Rotary Club Michael Lindsey-Jones Pam Lorenz Tom & Joanne Lynn Susan Macek & Dave Buchan Linda McAdams Mac and Linda MacGregor Charitable Fund Jack and Shirley McIntyre Foundation Alisoun McCloughen Lin McJunkin & Norm Johnson Jim & Rhonda McNett Pascale Michel Brooks & Kelly Middleton Marilyn Miller Noel & Jane Moden Kit Muehlman Danielle Mullen Charles Nafziger Bill & Tamara Neuffer Gabriel & Jeanne Olmsted Katherine Overstreet PACCAR Inc Pirjo Pasanen Dena Petersen Sandra & Tim Place Sheila & Roy Pringle Christopher Rawson Kyle Reep Helen Reichlin Ann Reid & Tom Theisen Hope Rendleman lan & Susan Rhodes Scott & Christy Rittenhouse Scott Rockwell Penny Roodzant Michael & Judy Roth Joan & Clyde Rutherford Joan Schaeffer Doreen & Jerry Schreuder Charlotte Scofield & Kit Moffitt Jerry Sells & Linda Larson Michael & Jennifer Sevigny Skagit Rotary Foundation Gerry Ellen Sleeth Richard & Pat Smith Bernice Steele Mark Steen Sally & Stu Stern Gale Sterrett Diane & Mark Studley Dennis Taylor Ann Tanner Kathy Thornburgh & Christopher Rawson Tulalip Tribes Charitable Fund Carol Van Sickle Rolf & Ursula Vecchi Donald & Kathleen Wadland Heather Waldron Helene Watkins John Webster Edwin Wells Rebecca Weston Don Wick Jan Wilson Robert Wilson Anne Winkes Katherine Wright & Roger Fanning June Yost Alison Zak & Paul Blum Susan Zamaria & Steve Girard Helen Zenon Rob Zwick
And the dozens of people who left contributions in "The Hat!"
Every contribution counts – please make yours today.
Pledge cards and "The Hat" for donations are available in the lobby.