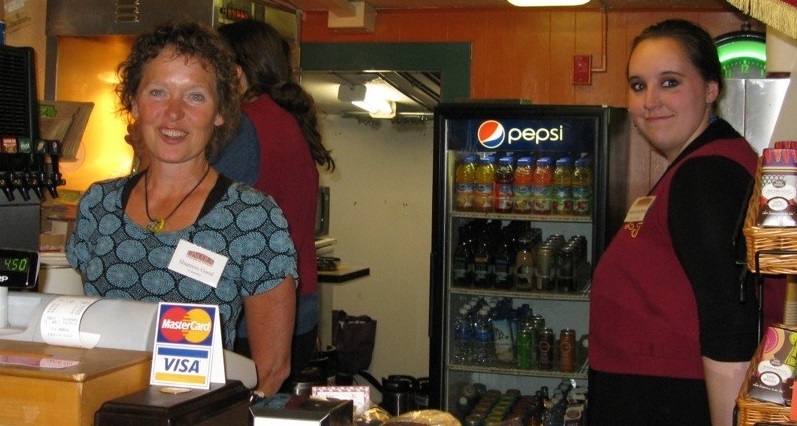 Would you like to volunteer at the Historic Lincoln Theatre?
To Join: Stop by the Theatre at any time to pick up a volunteer application and disclosure form or print the PDF's below and drop off the completed forms at the Ticket Office, or send them to us via email or snail mail. Volunteering at the Lincoln is conditional upon the receipt of a satisfactory report from the Washington State Patrol.
To sign up on our current schedule, see this month's calendar via the link below to view our needs then give us a call at 360.336.8955 or email  volunteer@lincolntheatre.org.
Tobie Fehr, Volunteer Coordinator, 360.419.7129 extension 101 tobie@lincolntheatre.org
Thank you so much for your support. 
Click here for a PDF version of our Volunteer Opportunities form.
Click here for a PDF version of our Volunteer Application form.
Click here for a PDF version of our Volunteer Disclosure form.
We use SignUpGenius to schedule volunteers for our Front of House. When you create an account, you'll be able to easily manage your sign ups in one central location. You can sign up quickly at your convenience, sync events and tasks to your calendar and receive email or text reminders.
Here is a link to our SignUpGenius Account that shows our current Front Of House Needs:
http://www.signupgenius.com/index.cfm?go=c.MyCalendar
Step 1: View the Sign Up Page
• Contact Volunteer Manager Tobie Fehr to let her know you want to start using SignUpGenius.
• Tobie will provide you a direct link that will let you view the sign up page or you can go to the "Find a Sign Up" tab on the SignUpGenius homepage and submit Tobie Fehr's email address of tobie@lincolntheatre.org to locate the link.
Step 2: Enter Your Contact Info
• You will see a second page where you can enter your contact info. If you have had an account previously, you can simply login. If you are new to the site, you can type in your information.
• Depending on the sign up, you may be asked to fill in some other fields in addition to your contact info.
• After you have completed the form fields, click "Sign Up Now" at the bottom of the page.
Step 3: Choose the Items You Want and Sign Up
• On the sign up page, click the "Sign Up" buttons next to the slots you want to sign up for. You can click more than one.
• Scroll to the bottom of the page and click the big "Submit & Sign Up" button.
Met Opera

: Capriccio 1:00pm

 

 

 

 

 

 

 

Met Opera

: Die Walkure 9:00am

 

 

 

 

 

 

Met Opera

: Die Walkure 1:00pm

 

 

 

 

 

 

 

 

 

 

 

 

 

 
Volunteering: It's fun. It's easy. It's rewarding.
There are many ways you can donate your time to your historic community theatre and meet new friends at the same time. You can volunteer for event concessions, ushering, wine bar; ticket office; administration office; building maintenance / cleaning; poster distribution; and many other valuable activities. Give us a call or stop by anytime for more information.
_________________________________________________________________________
Met Opera

: Capriccio 1:00pm

 

 

 

 

 

 

 

Met Opera

: Die Walkure 9:00am

 

 

 

 

 

 

Met Opera

: Die Walkure 1:00pm

 

 

 

 

 

 

 

 

 

 

 

 

 

 
Met Opera

: Capriccio 1:00pm

 

 

 

 

 

 

 

Met Opera

: Die Walkure 9:00am

 

 

 

 

 

 

Met Opera

: Die Walkure 1:00pm

 

 

 

 

 

 

 

 

 

 

 

 

 

 
Met Opera

: Capriccio 1:00pm

 

 

 

 

 

 

 

Met Opera

: Die Walkure 9:00am

 

 

 

 

 

 

Met Opera

: Die Walkure 1:00pm

 

 

 

 

 

 

 

 

 

 

 

 

 

 
 

 

 

 

 

 

 

 

 

 

 

Met Opera

: Le Comte Ory 10:00am

 

 

 

 

Met Opera

: Le Comte Ory 1:00pm 7 needed

 

 

 

 

 

Met Opera

: Cappricio 10:00am

 

 

 

Met Opera

: Il Trovatore 10:00am
 

 

 

 

 

 

 

 

 

 

 

Met Opera

: Le Comte Ory 10:00am

 

 

 

 

Met Opera

: Le Comte Ory 1:00pm 7 needed

 

 

 

 

 

Met Opera

: Cappricio 10:00am

 

 

 

Met Opera

: Il Trovatore 10:00am