May 24, 2023
LINCOLN THEATRE CENTER FOUNDATION ANNOUNCES NEW EXECUTIVE DIRECTOR
With significant consideration given to the skills, experiences and expertise needed to successfully guide the Lincoln Theatre Center Foundation in its next phase of growth, the Board of Directors has selected Damond Morris, PhD. to serve as Executive Director, replacing retiring Executive Director Roger Gietzen!. Click HERE for the full Press Release.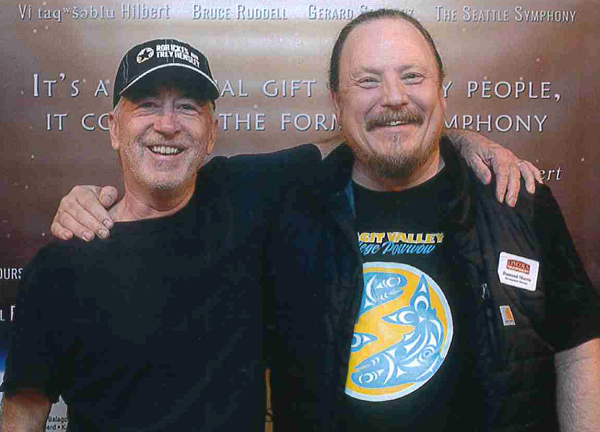 ---
May 17, 2023
WE DID IT!
1001 Members as of this week! Thank you for your support!
With gratitude,
Roger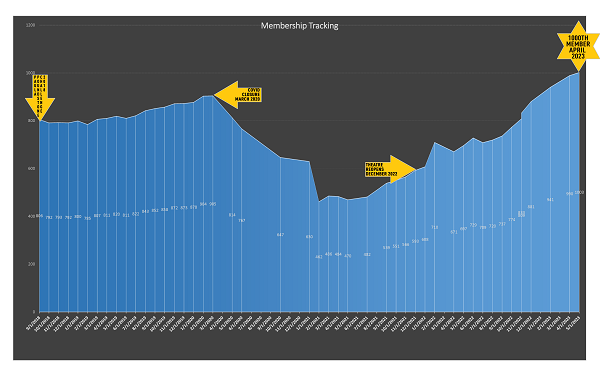 ---
May 10, 2023
ABC: ALWAYS BE CLOSING!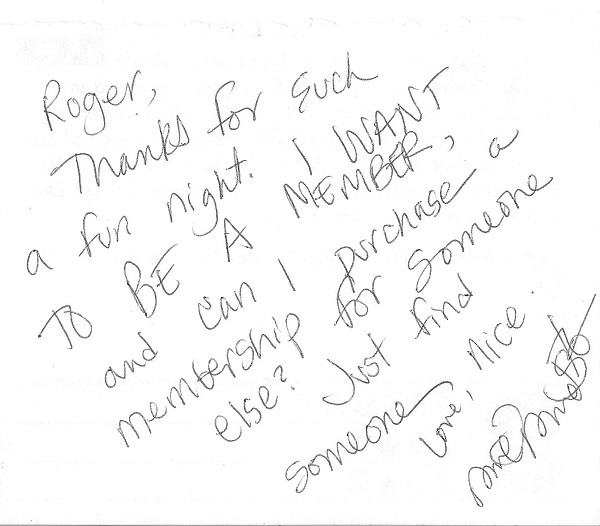 As I near the end of my tenure at the Lincoln, I keep hearing a voice in the back of my mind reminding me to ALWAYS BE CLOSING! So many goals have been met over the years except for the elusive 1000th membership! I first brought up the challenge at Paula Poundstone's show back in 2018. At that time we were holding at around 800 memberships. Ms. Poundstone took up the mantle and added two new memberships - one for herself, and one she donated to a "someone nice". By March 2020, our last show before shuttering for our COVID intermission, we were close with 905. Then during the pandemic membership dropped to an all time low of 462. Since that time we've slowly built back up to 992. 8 MEMBERS AWAY! Let's do this together before I go.
If you want to contribute by joining the Lincoln Party click HERE.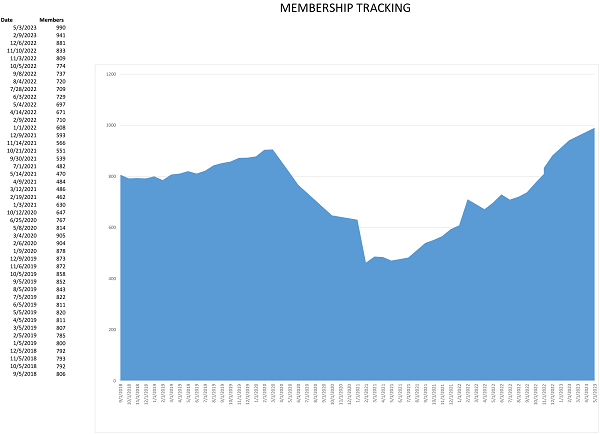 ---
April 26, 2023
97TH ANNIVERSARY CELEBRATION
The Historic Lincoln Theatre celebrates its 97th Anniversary with a special screening of two films by Charley Bowers -- an innovator in the silent film era, blending live-action slapstick with stop-motion animation accompanied by our Mighty Wurlitzer. 
When the Lincoln Theatre was built, it was hailed for its originality and beauty. The original owner, Elden Weigel (E. W.) Pollock, enlisted noted Seattle architect William Aitken to design the Lincoln in a modified Renaissance Revival style. The Lincoln Theatre officially opened on April 21, 1926 to rave reviews. The Argus newspaper reported on May 13, 1926, "Nothing like it has ever been constructed before...the theatrical world is sitting back astounded."
The Mighty Lincoln Wurlitzer was billed as one of the world's wonders during the heyday of silent films. The expense to install was over a quarter of the cost of the entire building!
​"The Organ Grinder" Harvey Rossiter will provide live accompaniment on the Mighty Wurlitzer, while Katie Moyer will perform along with the two short subjects. Fred Beeks will perform during the preshow, beginning at 5:00.
After the film, have a slice of birthday cake on us!
All this amazing entertainment for a special 1926 "opening night" price of thirty-five cents!
The volunteer organists who perform regularly before each film showing are Fred Beeks, Harvey Rossiter, Glen Des Jardins, Ruth Ann Burley, and Katie Moyer. Thanks to all of them for keeping the theatre organ tradition alive at the Lincoln!
More information on our Wurlitzer HERE.
More information on our History HERE.
---
April 19, 2023
Visiting the Tulip Festival Street Fair? Coming to a performance at the Lincoln Theatre this weekend?
The Tulip Festival Street Fair takes over downtown April 21 -23. The Lincoln Theatre will be hosting the performance stage in Pine Square and have a booth at the fair this weekend. Stop by to say 'hi' and enter for your chance to win a Lincoln Merch and Membership Basket!
If you have tickets to an event, give yourself extra time for travel and parking. Come early and take time to enjoy the Festival. Follow this link for our handy map below to help you navigate parking and street closures.
---
April 13, 2023
Lincoln Theatre Executive Director Announces Retirement

After 25+ years with the organization, including 8 years as Executive Director, it's time for me to take a little time to catch my breath, and then look forward to my next adventure. I've been fortunate to have had the support of an Extraordinary Staff, the Lincoln Theatre Board of Directors (both past and present), Members, and Volunteers, and together we took the organization from a scrappy theatre struggling to find its place in the local arts community to being the Governor's Arts and Heritage Award Honoree for Organization in 2022. We have accomplished so much together but there is much for you, our supporters, to look forward to, including a robust calendar of events booked for the coming season (I can't wait to announce some of these shows), the full return of live theatre to the Lincoln Stage, and our Centennial Celebration in 2026!
For my formal Letter of Retirement click HERE.
With gratitude,
Roger Gietzen
Lincoln Theatre Executive Director
---
April 5, 2023
Marley's Ghost's Ed Littlefield Jr.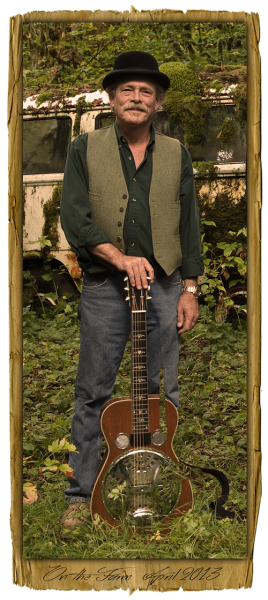 Ed Littlefield, Jr.'s self-proclaimed objective is to reach the kind of transcendence in his music that brings him to tears. He sings, plays acoustic guitar, mandolin, fiddle, mandocello, pedal steel guitar, dobro, piano, bass, and backing vocals.
His early music experience began with piano lessons at age 8 and guitar lessons at 10 that led to a 30+ year run with the band Marley's Ghost and a recording studio and label (Sage Arts) in Arlington. In 1984, Littlefield started putting together his studio. Later, while recording an album for Danny Wheetman, Jon Wilcox and Mike Phelan were brought in. Magic happened in the studio. "It was way too cool. It was so cool it took me years to get my solo album out," Littlefield said. Littlefield said there's never been a boring moment with Marley's Ghost in 39  years. "It's one of the coolest things that could possibly happen to me. … The first couple of years I had to work at not falling into bliss (on stage)," said the ex-Ranch Romance musician. The four voices harmonize so well that Marley's Ghost could be an a cappella group. "But give us instruments and we turn into a string band. No other band sounds like we do. The bedrock thing is four guys who sing well together." The band loves bluegrass, gospel, old-time, Celtic, reggae, country, Cajun and R&B; brings a truckload of stringed instruments (upon occasion, Littlefield's bagpipes), and sings their signature four-part harmonies.
Littlefield is also a major supporter of the arts in Skagit & Snohomish Counties, Seattle, Port Townsend, and elsewhere. He helps build community support for nonprofits. His local philanthropic work includes contributions to the Lincoln Theatre, the Stage at Edgewater Park, and to the eponymous Littlefield Celtic Center.
His parents involved their three children in financially supporting organizations when Littlefield was still in his 20s. Littlefield inherited enough money to continue the work. "Every day I praise my father's hard work that allows me to do what I want to do. I consider it a perpetual endowment that gives me time to study, to think, to play music, to read." Littlefield
We invite you to attend the show this week in support of the music and the man!
Roger Gietzen
Lincoln Theatre Executive Director