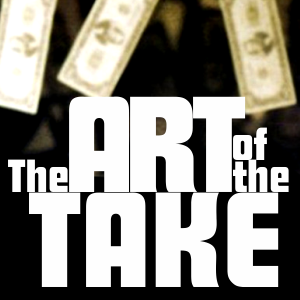 Wednesday, Jul 5, 7:30 pm
Wednesday, Jul 12, 7:30 pm
Wednesday, Jul 19, 7:30 pm
Wednesday, Jul 26, 7:30 pm
Every Wednesday in July, you're cordially invited to join us at the Lincoln Theatre for our Lincoln Film Series: The Art of the Take.
The four films in this series -- one film every Wednesday -- highlight heists, capers, swindles, and even some assorted chicanery. Stylish bravado is the name of the game, and you'll be on the edge of your seat in anticipation of who will win and who will lose.
Take what you want -- you deserve it! Every Wednesday, only at the Lincoln Theatre!
July 5: How to Steal a Million
Audrey Hepburn and Peter O'Toole will steal not only a million but also your heart in this breezy art-theft lark.
Charles Bonnet (Hugh Griffith) expresses his passion for art by forging masterpieces -- and selling them at a hefty profit. The trouble starts when his reproduction of a prized sculpture winds up in a famous Paris museum. If experts determine that it is inauthentic, Bonnet's reputation will be ruined. That's why his fetching daughter, Nicole (Hepburn), hires cat burglar Simon Dermott (O'Toole) to steal the sculpture back -- before it's too late.
Directed by William Wyler.
United States | English | 1966 | Crime, Romance, Comedy | 123 minutes | NR (PG equivalent)
July 12: The Taking of Pelham One Two Three
Walter Matthau and Robert Shaw face off in a battle of wits in this propulsive thriller -- Matthau as Lieutenant Garber, a veteran subway authority who thinks he's seen it all, and Shaw as the ruthless mastermind who shows up with a brand-new bag of tricks.
In New York City, a criminal gang led by the ruthless "Mr. Blue" (Shaw) hijacks a subway car and threatens to start shooting one passenger per minute unless they receive a million dollars in cash from the city within an hour.
On the other end of the line, crusty veteran transit policeman Zachary Garber (Matthau) has his hands full dealing with the mayor's office and his hotheaded fellow cops, while also trying to deliver the ransom before the deadline expires.
While juggling all of this, Garber must figure out one thing: even if the bad guys get the money, how are they planning on getting away with it?
Directed by Joseph Sargent.
United States | English | 1974 | Thriller | 104 minutes | R
July 19: Bound
Sparks fly when Violet (Jennifer Tilly) meets Corky (Gina Gershon), and the realize they have some mutual interests -- mostly each other!
Violet is the girlfriend of violent gangster Caesar (Joe Pantoliano), while Corky is fresh out of prison and doing renovations on the apartment next door. As the two women launch into a passionate love affair, they assemble an intricate plan for Violet to escape from Caesar, along with two million dollars of the mob's money -- but the hardest part will be to make it out alive.
Directed by Lana and Lilly Wachowski.
United States | English | 1996 | Thriller | 109 minutes | R
July 26: Ocean's Eleven
George Clooney, Brad Pitt, Don Cheadle, Andy Garcia, Matt Damon, and Julia Roberts (and more!) star in this fast-paced, witty, and effortlessly cool crime flick.
Dapper Danny Ocean (Clooney) is a man of action. Less than 24 hours into his parole from a New Jersey penitentiary, the wry, charismatic thief is already rolling out his next plan.
Assembling ten like-minded crooks, Ocean orchestrates the most sophisticated, elaborate casino heist in history: rob three casinos. Simultaneously. And take them for everything they've got.
Directed by Steven Soderbergh.
Unites States | English | 2001 | Crime, Comedy | 116 minutes | PG-13
Masks are recommended but not required.
COVID SAFETY PROTOCOLS CAN BE FOUND HERE.
Film Prices
Lincoln Theatre Members get $2.00 off on the following prices with discount code:
General: $11.00
Seniors, Students, and Active Military: $10.00
Children 12 and under: $8.50
All prices include a $2.00 Preservation Fee that goes directly into our capital account for the preservation of the Lincoln Theatre and its programs.