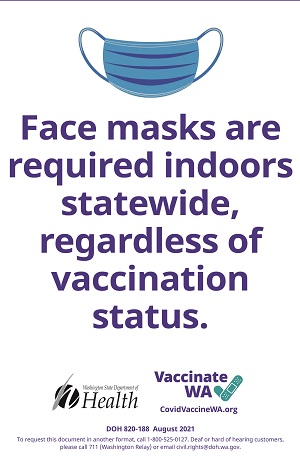 COVID-19 Update 10/13/21
WE ARE BACK and getting closer to the new normal every day!  We do see a light at the end of the tunnel and now is the time to rejoice but face coverings and vaccinations are the way to go - it will help us to fully reopen faster, GET YOUR JAB, and Stay Safe and Sane when you Leave Home. If we can all do that over the next few weeks the sooner we can start building a better, more cultural future! All of our FOH staff are now fully vaccinated and we are hoping that you'll do your part as well.  
We care deeply about the health and safety of our patrons, artists, staff, volunteers, and community. As such, we have been working with State and Local Health Officials, our Board of Directors, Members, and Performers and have determined that we will be joining many other performing arts and sports venues across the Pacific Northwest region in requiring proof of vaccination or a negative COVID test for entry to all performances and events in our theater for all guests 12 and over. Additionally, masking is currently required inside the Lincoln. All patrons, staff, and volunteers will be required to wear masks, except while actively eating or drinking.
Important Notice Effective Immediately
As of September 3, 2021, in an effort to ensure the health and safety of our guests, performers and staff, the Lincoln Theatre will require proof of a Covid-19 vaccination or a negative Covid-19 test taken within 72 hours of performance for all ticket holders 12 and over. Staff will check for proof of vaccination and negative COVID tests at the doors as a condition of entry. In addition all patrons are required to wear masks at all times in the venue, except while actively eating and drinking in their seats.
This policy is in effect immediately through December 2021. The Lincoln Theatre staff will continue to monitor the ever changing situation in coordination with local and state health officials and will re-assess our policy in November.
TICKET HOLDERS SHOULD NOTIFY ALL MEMBERS OF THEIR PARTY ABOUT OUR CHECK-IN POLICY.
The following are acceptable as proof of full vaccination:
Vaccination card (which includes name of person vaccinated, type of vaccine provided and date last dose administered) OR
Photo of a vaccination card as a separate document OR
Photo of the attendee's vaccine card stored on a phone or electronic device OR
Documentation of vaccination from a healthcare provider electronic health record or state Immunization Information System record.
Matching photo ID will be required at the door.
Self-reported vaccination records that are not verified by a health care provider cannot be accepted.
The following are acceptable as proof of a negative COVID-19 test result:
Printed document (from the test provider or laboratory) OR
Email or text message displayed on a phone or electronic device from the test provider or laboratory.
The information provided should include name of person tested, type of test performed, and date of negative test result (for PCR test, date of negative result must be within prior 72 hours; for the antigen test, date of negative result must be within prior 24 hours).
Matching photo ID will be required at the door.
Self-reported negative test results cannot be accepted.
Ticket holders that are unable to comply with the above COVID-19 protocols will be given a full refund upon request prior to the event. No refunds will be issued after the performance.
Thank you to our board of directors, patrons, sponsors, staff and volunteers for their continued support. We can't wait to welcome you back for another exciting season of world-class live performances.
Resources:
For more information about the vaccine, how to schedule a vaccine appointment or COVID-19 testing, please go to the Skagit County Public Health District website here.
Vaccine Info: https://vaccinelocator.doh.wa.gov/
Skagit County Testing Info:https://www.skagitcounty.net/Departments/HealthDiseases/coronavirusvaccine.htm
Northwest Labs offers drive-through COVID-19 Testing at the Burlington Outlet Mall: https://www.skagitcounty.net/Departments/Home/press/042121a.htm
Washington State Department of Health Testing Info: https://www.doh.wa.gov/Emergencies/COVID19/TestingforCOVID19#heading52646

---
Additionally, we've contracted with HKP Architects to design a better flow through our lobby, with our concessions moving to the adjacent space to the south where our box office currently occupies and expanding our Women's Restroom. Box Office Tickets will be purchased from outside of the theatre, traditional to historic theater practices. Moving concessions out of the lobby will also create additional space to expand our Women's restroom, which can develop long lines at a sold-out show. Click on the Video for a Walkthrough of HKP renovation plans.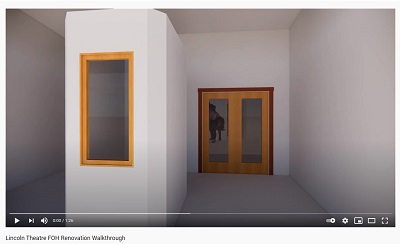 Time flies even when you are NOT having fun! It's hard to believe we have been shuttered to live performances for over 18 months now. With the extraordinary support of our donors, financial reserves, and a PPP loan/grant, we were able to keep our staff fully employed through the end of 2020. During COVID we opened our Popcorn Pop Up, began streaming Films and Live Concerts, and increased grant writing efforts and financial support requests to allow us to remain staffed even though we are closed to the public. They have worked (and volunteered) tirelessly these past 13 months to keep the theatre they love running smoothly. During this time, we began renovations to the theatre's auditorium, as well as our lobby and administration office, to improve safety for our guests. Our submission to the SWEDED FILM FESTIVAL OF CREATIVE RE-CREATIONS took 3rd Place Nationally and we just won People Choice Award and a Judge's Award for our SPRING INTO SKAGIT VALLEY Window Display. 
Updated Theatre Procedures
Proof of vaccination or a negative COVID test required for entry to all events and performances
Masks will be required for entry and at all times while in the building beginning July 20, 2021.  Once seated in the auditorium, masks may only be removed while eating or drinking.
Ticket purchases online are recommended. We have a new no-fee online ordering system in place.
How We're Keeping You Safe:
Vaccinations are required for all front of house staff in direct contact with volunteers and patrons
All staff and volunteers are required to wear face coverings for the duration of their shifts
Removal of all self-service stations
All Popcorn & Soda refills will be given a new container instead of using the original. Members now receive 10% off all concessions and merchandise instead of free refills
Plexiglass dividers at all points of sale
Frequent cleaning of high-touch surfaces and restrooms
Seats to be cleaned between each event
Ticket purchases online are recommended. 
Please do not enter the Lincoln Theatre if you are experiencing any COVID-19 or flu-like symptoms.
Staff Work Projects already completed include:
HVAC ventilation fully open 24/7 with new MERV filters
6 touchless hand sanitizing stations
Carpets cleaned
Walls washed
All seat upholstery cleaned
Draperies cleaned and hemmed
Hardwood floor under and around seats cleaned, sanded, and stained
Stage floor painted
The Lincoln Theatre Center Foundation is facing a major financial loss as a result of COVID-19 related postponements and cancellations that could go on for months, and WE NEED YOUR HELP. Please think of your current situation and family first, but if you are able, please consider a tax-deductible gift to help support our mission through these challenging times. The CARES act provides new incentives for charitable giving. The law includes an above-the-line charitable deduction of up to $300 per taxpayer for Eligible Individuals that do Not Itemize. The above-the-line deduction will give nonprofit supporters who normally do not receive tax benefits, incentive to make gifts to their favorite causes this year. For itemizers: 100% of AGI Limit for Cash Contributions to Public and Private Charities! This provision is huge for charitable giving. This year, taxpayers may deduct gifts of cash regardless of whether given to a public charity or private foundation and deduct them up to their contribution base --100% of their adjusted gross income (AGI). Gifts of cash made to public charities are normally limited to 60% of AGI. 
Please consider making a gift to help support our mission through these challenging times:
             
 If you have tickets to upcoming shows, please keep them as they will be valid for rescheduled dates. For canceled shows, our box office will reach out to ticket holders with options including theatre credit good for future performances and refunds.
•    All performances of The Music Man (CANCELLED)
•    Finding Home: A Foster Youth Story (RESCHEDULED DATE TBD)
•    The remainder of The MET: Live in 2019/20 HD Season (CANCELLED)
•    The MET: Live in 2020/21 HD Season (CANCELLED)
•    Marty Stuart and his Fabulous Superlatives April 15 (RESCHEDULED for 9/17/2021)
•    Charlie Hunter and Lucy Woodward (CANCELLED)
•    Skagit Valley Drag Show - April 18 (RESCHEDULED for virtual Livestream on 4/24/2021)
•    Día del Niño - April 25 (POSTPONED until spring 2022)
•    Lincoln Theatre's 94th Anniversary Silent Film - April 25 (POSTPONED until 2022 our 96th!)
•    NT Live: Cyrano de Bergerac - April 26 (RESCHEDULED DATE TBD)
•    Enormous: The Gorge Story - April 28 (RESCHEDULED)
•    Full Draw Film Tour 2020 - April 29 (RESCHEDULED date TBD)
•    Skagit Jazz Night Night - May 1 (RESCHEDULED for spring 2022)
•    Good Lovelies - May 2 (RESCHEDULED for March 26, 2022)
•    NT Live: The Welkin - June 7 (CANCELLED)
•    Dudestock 2020 - June 27 RESCHEDULED (NEW DATE TBD)
•    Skagit Theatre Camp - (CANCELLED)
•    BrewFest on the Skagit - (RESCHEDULED for August 14, 2021)
•    CELTIC YULETIDE 2020 - (RESCHEDULED as a virtual concert)
Please consider the following choices for rescheduled or canceled performances:
•    Credit towards a future performance
•    Credit towards a Lincoln Theatre Membership
•    Credit towards a Tax-Deductible Donation
•    A full refund
THANK YOU in advance for your patience as our staff works to confirm rescheduled shows and inform patrons. Our box office is now open from noon - 5:00pm Monday through Friday. The best way to reach us is via tickets@lincolntheatre.org or at our box office during open hours at 360.336.8955.
Our mission, being a community connected by culture, cannot happen in a vacuum. We're incredibly proud of the place the Lincoln Theatre Center Foundation holds within this community and our first priority will always be the health and safety of our staff, customers, artists, and volunteers.
Thank you for your ongoing support of the Lincoln.
Sincerely,
Roger Gietzen
Executive Director, Lincoln Theatre Center Foundation
Be Safe – Be Kind – Stay Positive - Get Vaccinated!