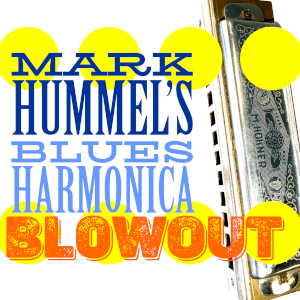 Mark Hummel's Blues Harmonica Blowout hits its milestone 30th year -- and you can catch it at the Lincoln! The night features master harp-slingers Magic Dick, John Németh, Sugar Ray Norcia, and Aki Kumar, backed by guitarists Bob Welsh and Anson Funderburgh, bassist Randy Bermudes, and drummer Wes Starr.
Mark Hummel started playing harmonica in 1970 and has gone on to become one of the premier blues harmonica players of his generation. Hummel has been featured on over thirty recordings since 1985, including the Grammy-nominated "Remembering Little Walter" (a recording of a Mark Hummel Blues Harmonica Blowout). "A specialist in West Coast Blues, he is a seasoned showman who knows more than a thing or two about how to please an audience." —The New Yorker.
Magic Dick is the original harp man from the J. Geils Band, whose many hits flooded the airwaves during the 1970s and 1980s.  Chart-toppers like "Freeze Frame," "Centerfold," and Magic Dick's own "Whammer Jammer" were in the Top Ten off and on for 20 years and made them one of the top bands that featured harmonica prominently in the frontline.
John Németh's 2007 album Magic Touch received an ecstatic response from fans and the media, and he was hailed as the new voice of the blues; Living Blues enthused, "Magic Touch gives hope that the blues will survive." Since then, Németh has collaborated with Bo-Keys and Elvin Bishop.
Sugar Ray Norcia is a singer / harp man and a three time Grammy Nominee whose career kicked into high gear in 1979 when he formed the original Sugar Ray and the Bluetones with guitar giant Ronnie Earl. Sugar Ray was nominated for an unprecedented seven Blues Music Awards in 2017 including Traditional Blues Male Artist -- and also the B.B. King Entertainer of the Year! In 2020, Sugar Ray and the Bluetones' new album, Too Far From The Bar, was nominated for five Blues Music Awards.
Aki Kumar, "The Only Bombay Blues Man," left his home in Mumbai with the intention of working as a software engineer in Silicon Valley. Then he discovered the blues, and his life dramatically changed. A fixture in the blues clubs throughout Northern California, where he developed a unique, audacious blend of Chicago-style blues mixed with retro Bollywood pop.
Guitarist Bob Welsh is a multi-talented Grammy-nominated guitarist, keyboardist, and bassist who currently plays with Fabulous Thunderbirds, Elvin Bishop's Big Fun Trio, and Charlie Musselwhite.
Guitarist Anson Funderburgh, a long-time member of the Golden State Lone Star Blues Revue, has won ten Blues Music Awards as part of his group Anson and the Rockets.
Randy Bermudes is an in-demand blues and roots bassist who has played with Mark Hummel, Little Charlie and the Nightcats, Charlie Musselwhite, and the Fabulous Thunderbirds.
Drummer Wes Starr has played with a who's-who of famed musicians including Asleep at the Wheel, Willie Nelson, Marcia Ball, Jimmie Dale Gilmore, Omar and the Howlers, and Hal Ketcham.
PLEASE NOTE: Duke Robillard has had to bow out of this show, due to a variety of issues.
Advance Reserved Seating Tickets: $45 1st Section; $40 2nd Section; $35 3rd Section; $30 4th Section + applicable fees. Lincoln Theatre Members receive $2 off all seating tiers.