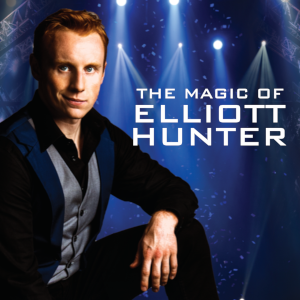 Saturday, Jan 13, 2:00 pm
Saturday, Jan 13, 7:00 pm
Internationally renowned Magician / Illusionist Elliott Hunter returns to Skagit Valley this winter for this limited-time engagement!
After traveling the globe, performing his show on luxury cruise ships, and representing the United States at the World Olympics of Magic, Elliott Hunter brings his new world-class show to the Lincoln Theatre on January 13th, 2024! 
Elliott's passionate energy combined with personable storytelling aims to leave you inspired, spellbound, and beyond enthralled. Whether you are 5 or 105, you will enjoy the show!
Experience a high-octane approach to modern magic, yielding a memorable experience more unique than Elliott's Ginger Genetics!
---
Advance General Seating Tickets:
VIP Admission Ticket: $30 + applicable fees
Experience Elliott Hunter's world-class illusion show from the front rows! The VIP ticket guarantees your seat in the first three rows. 
You may even help decide the show's outcome!
VIP Admission Includes:
Seating in the first three rows. 
All Access VIP Lanyard, signed by Elliott and the Cast before/after the show. 
Signed Show poster
Photo Ops/ Meet & Greet after the show
General Admission Ticket: $25 + applicable fees
Experience Elliott Hunter's world-class illusion show from a seat of your choice! You may even be chosen to participate in the show. There are no bad seats in the gorgeous Lincoln Theatre.
General Admisison Includes:
General Admission seating. 
Photo Ops/ Meet & Greet after the show.
A presentation of Elliott Hunter Magic; Member Discounts do not apply.
---
Born and raised in Anacortes, Elliott Hunter's passion for magic began at the age of seven when he saw his first magic show at the Anacortes Public Library. He immediately ran to the magic section of the library and checked out as many magic books as they would let him. He put together his first magic show for his fourth-grade talent show later that year. In the years following, Elliott would perform as much as he possibly could; for any group that would have him. Elliott continued to grow and evolve his show all through his time in academia. In his late teens, he negotiated regular contracts with the world-famous Magic Castle in Hollywood and performed often for private/corporate events.
In 2021, Elliott graduated from Cal Poly with a Bachelor's degree in Manufacturing Engineering. Rather than pursue a career in engineering, Elliott focused on combining his two passions and became a full-time entertainer, applying his engineering knowledge both onstage and offstage as an illusionist. He now tours globally, and has entertained hundreds of thousands of people from all walks of life. Elliott's unique approach to modern magic, combined with his personable demeanor, makes him one of the most sought-after young entertainers in the world. This past year alone, Elliott has traveled to 11 different countries and  performed over 300 shows for thousands of people from all over the world!
 Elliott's journey reminds us that Everything is Possible as long as we carry our passion with us! 
To learn more about Elliott Hunter, go to ehuntermagic.com / Instagram: @ehuntermagic.