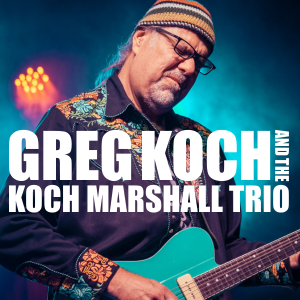 Saturday, Jul 15, 7:00 pm
STEVE KARRAS PRESENTS: Greg Koch and the Koch Marshall Trio live on stage at the Historic Lincoln Theatre.
Join us at the Lincoln Theatre as Greg Koch and the Koch Marshall Trio bring their perfectly bluesy-churchy-funky-jazzy-rock blend to our stage!
Milwaukee native Greg Koch has forged a successful career as a blues-rock "guitar player's guitarist." He is a fiercely creative player with a whole trick bag of impressive techniques, ranging from Albert Lee chicken-pickin' to Albert King string-bending to all-out Hendrixian abandon.
Dylan Koch gravitated to the drums early on in his life using kitchen utensils to play along with music as soon as he could walk. After digesting an early diet of Ginger Baker, Keith Moon, Mitch Mitchell and John Bonham, Dylan was mentored by the legendary Tom Brechtlein (Chick Corea / Robben Ford). Says proud Papa Koch, "You can't teach the grease. And he gets it. He gets the filth. I guess he's just got my filthy DNA."
Hailing from the Twin Cities area, Toby Lee Marshall came from a musical family, playing piano for years until falling under the spell of the sound of the organ while at a baseball game at age seven. His fascination for the Hammond B3 took hold after his Dad took him to see Steve Cherewan playing with Dr. Mambo's Combo during their legendary residency at Bunker's in Minneapolis. Steve mentored Toby in the ways of the B3 and he hit the ground running, landing a gig with bluesman Lonnie Brooks while still a teen. Following a long hiatus from music, Toby has returned to the music scene with a vengeance in the smoking Koch Marshall Trio.
"Greg Koch is one of those rare guitarists that can blend various styles with a light-hearted approach and a tremendous amount of technique. Hearing him play is inspiring to a guitar player to try to achieve greatness on the instrument." —Steve Vai
"Scary good." —Joe Bonamassa
Advance Reserved Seating Tickets: $37 all seats + applicable fees.
A Steve Karras Presents: production. Member Discounts do not apply.