The New Old Time Chautauqua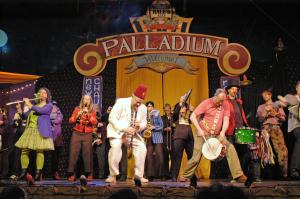 Festival Seating
$15 general and $10 for Children (12 and under) with a $2 discount for Lincoln Theatre members.
Buy Tickets Now
Circus and Variety Entertainment returns to the Lincoln Theater!
The Flying Karamazov Brothers
Expect the unexpected, you won't be disappointed. Spend an evening with the world famous Flying Karamazov Brothers (fresh off a two-week engagement at Seattle's ACT Theatre with tickets priced at $35 - $45), the Mudbay Jugglers from Olympia Washington and other merry-makers for a spark of inspiration and a night of fun. Come see The New Old Time Chautauqua, a rare breed variety show with juggling, comedy, music, good ol' family fun and circus style antics that would make even a pessimist smile. In its 30th year and still going strong, this community based entertainment will take you on a journey out of the modern screen-based world and into a land of rip-roaring full body experience.
The Mudbay Jugglers
Palladium and Mudbay Jugglers photos courtesy of Michelle Bates