Spotlight Film Festival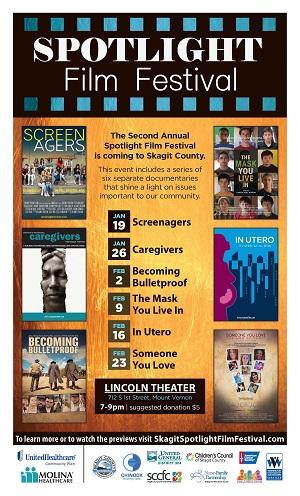 Thursday, Jan 19, 7:00 pm
Thursday, Jan 26, 7:00 pm
Thursday, Feb 16, 7:00 pm
Thursday, Feb 23, 7:00 pm
The second annual Spotlight Film Festival returns! This event includes a series of six separate documentaries that shine a light on issues important to our community. This year's films include Screenagers, Caregivers, Becoming Bulletproof, The Mask You Live In, In Utero, and Someone You Love. Films will be featured on Thursdays from 7pm – 9pm starting January 19th and running through February 23rd at the Lincoln Theatre.

Spotlight Film Festival 2017 schedule

Up Next:

February 16 at 7:00pm: In Utero -
IN UTERO is a cinematic rumination on what will emerge as the most provocative subject of the 21st Century – life in the womb and its lasting impact on human development, human behavior, and the state of the world. Epigenetics, Alice In Wonderland, The Matrix, scientists, psychologists and doctors converge to prove that we are not what we think we are. IN UTERO brings together for the first time convincing data that explains why some of us face challenges from the start while others thrive. Prepare to be surprised, intrigued, but no longer baffled by what the future holds for yourself, your loved ones, and the human race.
February 23 at 7:00pm: Someone You Love - https://hpvepidemic.vhx.tv/videos/trailer-someone-you-love-the-hpv-epidemic

Entrance is free with a suggested donation of $5. To learn more and watch previews, visit www.SkagitSpotlightFilmFestival.com

Past screenings in the festival:

January 19th at 7:0pm: Screenagers

SCREENAGERS probes into the vulnerable corners of family life, including the director's own, and depicts messy struggles, over social media, video games, academics and internet addiction. Through surprising insights from authors and brain scientists solutions emerge on how we can empower kids to best navigate the digital world.

January 26th at 7:00pm: Caregivers - http://caregiversfilm.com/

Portraits of Professional CAREgivers: Their Passion, Their Pain is a documentary film which takes us on a journey into a world the public has not seen. The film depicts the dramatic emotional costs experienced by professional providers such as nurses, social workers, clinical psychologists, doctors, firefighters, first responders who rescue, assist, and when possible heal the injured and traumatized. Through dramatic stories, CAREGIVERS film probes the emotionally risky aspects of professional caregiving and public service.January 26th at 7:00pm: Caregivers - http://caregiversfilm.com/

We ask the question: How is the professional care provider affected emotionally and physically, and who helps him or her?! The audience will discover that engaged empathic caregiving can sometimes be an occupational hazard; we explore the painful and human sides of these professions and the professionals' response to trauma known as Compassion Fatigue or Secondary Traumatic Stress. We also recognize the profound meaning caregivers may experience, sometimes referred to as compassion satisfaction and ways of coping and recovering from toxic stress in the workplace

February 2 at 7:00pm: Becoming Bulletproof -

BECOMING BULLETPROOF documents the making of an original Western film called, Bulletproof. Bulletproof features actors with and without disabilities who meet every year at Zeno Mountain Farm (ZMF) to write, produce, and star in original short films. Founded by two brothers and their wives, Zeno Mountain Farm's philosophy is to create a truly inclusive community that builds genuine friendships that transcend stigma and stereotypes. For them, their films aren't about making a statement; "It's all about making awesome movies."