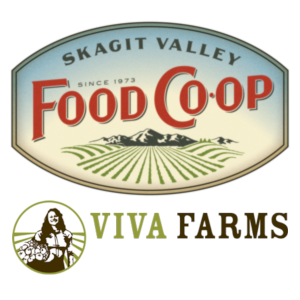 Thursday, Jan 26, 6:00 pm
Join us for an inspirational evening of food, farming, and fun in celebration of a powerful new partnership between Skagit Valley Food Co-op and Viva Farms!
To kick off Skagit Valley Food Co-op's 50th Anniversary year, the Co-op donated $100,000 to Viva Farms to support local, organic agriculture and the future of farming in Skagit Valley. Come learn more about the Co-op, Viva Farms, and how together, we can keep our community fed and healthy with local food today, tomorrow, and well into the future.
Enjoy snacks, $2 beers, and prizes, and stick around for a mixer to meet the farmers and close out the night!
This event is free and open to the public.
This event will also be available to livestream, or watch at a future date, on our YouTube Channel via the link below.