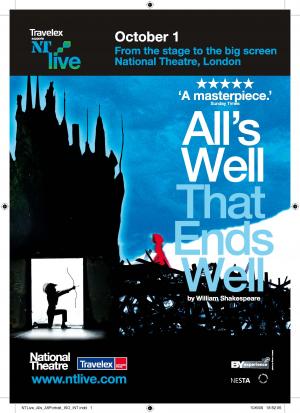 Thursday, Oct 1, 11:00 am
Adults:$14; Seniors: $12; Students: $10
 NT Live
From stage to the big screen.
All's Well That Ends Well will be performed live from the  National Theatre in London on Thursday, October 1, 2009
 We will present an encore performance on October 3,  2009
 
All's Well That Ends Well
by William Shakespeare
 
'Marianne Elliott's wondrous revival... a fairytale for grown ups.' Guardian
'It is so richly conceived, such a pleasure in every detail that I'd love to see it all over again.' Observer
'The performances are uniformly excellent...Marianne Elliott's direction has a clarity not short of visionary.' Evening Standard
'A masterpiece' Sunday Times
The feisty but lowly Helena falls in love with Bertram, a haughty count. To gain his hand she is set a string of impossible tasks. Even if accomplished, they can hardly guarantee his love. He refuses to bed her and yet says he'll only be hers if she bears his child; and he lusts after another. Nevertheless, our heroine, whether wisely or no, refuses to give him up.
 
Set against a background of sexism, snobbery and a battle between the generations, Shakespeare's All's Well That Ends Well turns fairytale logic on its head. A wondrous, bittersweet story.
 
NT Live – performances of National Theatre plays broadcast live to cinema screens around the world.
 
All's Well That Ends Well will be performed live in London on Thursday, October 1, 2009, filmed in high definition and presented exclusively at participating movie theatres across the US including the Lincoln Theatre in Mount Vernon.
NT Live is supported internationally by TRAVELEX
http://www.travelex.com/