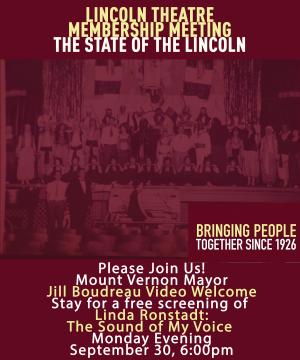 All Lincoln Theatre Members in good standing are invited to our annual Membership Meeting: The State of the Lincoln on Monday, September 30 from 6:00 - 7:00 pm. At this meeting, you will get a brief view of our last fiscal year at the Lincoln, our hopes for the future, and a chance to vote on Officers of the Lincoln Theatre Center Foundation for the current year. Mount Vernon Mayor Jill Boudreau will be delivering a video message on what the Lincoln means to the City of Mount Vernon and how it contributes to her vision for a redeveloped downtown core. Come early for an informal social time from 5:30 - 6:00 to meet with our staff, Board of Directors and Guests to share your ideas and concerns.
 
We had a great year and accomplished a lot in 2018/19! We're looking for 2019/20 to be another stellar year.  We'd like to share it with you, so please try to attend.
All attendees are invited to stay for the evening's film Linda Ronstadt: The Sound of My Voice for free!