Originally from Hollywood, California, Colette Griffith moved to the Skagit Valley almost 10 years ago. The things she loves about living here are the very things that made her start painting: seeing bald eagles, owls, great blue herons or cows with their calves when driving down a country road. The breath-taking scenery and the old barns and wood-fences provide her with endless inspiration.
     "I think I've always loved creating art, whether it be making papier-mache animals (for Skagit Symphony's performance of Peter and Wolf), designing Tiffany style stained glass lamps, sewing quilts, putting together wedding bouquets, or using the age-old formal style of copperplate calligraphy. But my current passion is watercolors and especially capturing amazing images of the great Pacific Northwest."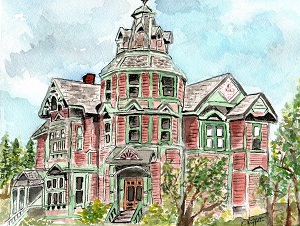 My showing at the Lincoln Theatre throughout the month of January in the Art Bar will feature places and animals found specifically in Western Washington.
Please stop in and have a look. Artist reception January 24th 6-7pm