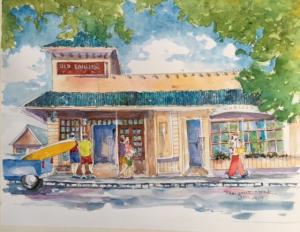 This work is a collection of traveling art, by that I mean, this is what I do on vacation. Our last trip was during the cold, rainy season here in Skagit County, to the magical island of Maui. In this show, you'll see some of what we experienced, including sunny warm weather.
Key West, FL was another important trip we made. Such a lively, colorful place, rich in history (think Hemingway) and a lighthouse in the southernmost point of the US.
I've included watercolor castles in Portugal, pen and ink with colored pencil art from Mazatlan and Santa Fe, too.
Each of these pieces of art bring back the memory of these places: the sights, sounds, smells and people.
I hope they transport you there, too.