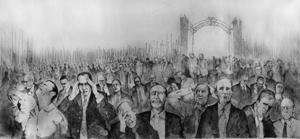 During the month of March, the Lincoln Theatre art gallery will host a Human Rights Display by local Skagit Valley artists.
Featured artists include Thais Armstrong and Richard Olmsted among others.
An opening reception for this event will take place on Friday, March 2nd from 5 -7 pm in our Art Bar. The Human Rights Display will be up throughout the month of March in conjunction with the Skagit Human Rights
 
About Richard Olmsted:
 
I find myself a great deal more concerned with the aesthetics of the physical world, than that confined by a frame or held hostage in a museum. We need look no further than these polluted pastures and seas of grey to be reminded why I'm not interested in discussion or depiction so much as fighting for those whose voices we choose to ignore. I'd give up any canvas in a heartbeat to draw instead upon the rubble of empires.
 
I'm influenced by authors and criminals, strangers and friends. I am influenced by every honest smile that was more than good salesmanship. I'm influenced rather differently by rubber bullets and pepper spray. By the blunt force of the nightstick. I'm influenced by the polluted air, the tainted water, and the dwindling biodiversity. I'm influenced by the developers who are cutting down my back yard, the businessmen that systematically steal the world's resources, the management that robs our creative energy, and the stress filled dissociative environment they have left us with, and I think it's time the lines are drawn.
 
I remind myself, that while the pencil may be mightier than the sword, kept sharp, it is not so different either.
 
About Thais Armstrong:
 
Thaïs studied at Grinnell College in Iowa under Bobbie McKibbin. Grinnell College hosted her first art show in 1984.  Thaïs' paintings are held in private collections across the United States and abroad.  Her work is included in three corporate collections.
 
Thaïs Armstrong is a member of the Fine Art Committee at Skagit Valley Hospital.  She has been a member of Skagit Artists Together (SAT) since its inception in 2003. Thaïs has chaired their Studio Tour and served on SAT's Board of Directors as Treasurer, President, Past President and Chair of the Board.
 
Thaïs first moved to Northwest Washington in 1989. Her interest in birds brought her to Skagit County where she moved in 1991. She has since resided on Samish Island and continues to pursue bird watching locally and internationally.  She currently is employed as a Training Specialist for Hospice Volunteers. 
 
Her studio is located on Samish Island, Washington, USA
tarmstrong108@gmail.com   or   360-766-6657