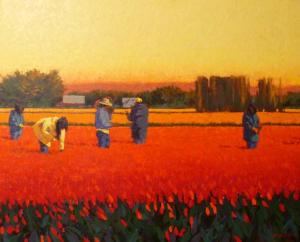 Opening reception on the 16th from 5 to 7:00 pm.
 
One of the works of Anacortes artist Alfred Currier will be on display for the month of March 2013 in the Lincoln Theatre Art Bar, surrounded by poetry from local students of Ms Katrina Johnston of the Skagit Academy, a home schooling center of the Mount Vernon School District. The theme of both the painting and the writing will be Human Rights on both a local and universal scale.  The exhibit at the Lincoln is in honor of the tenth Skagit Human Rights Festival.
 
 For about the Skagit Human Rights Festival click here.