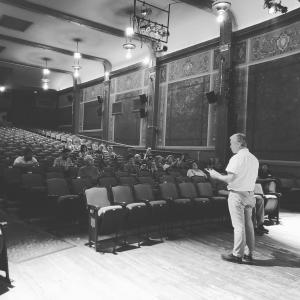 Thursday, Mar 14, 5:30 pm
Wednesday, Jun 26, 5:30 pm
The Lincoln Theatre Center Foundation Board of Directors and Staff want to have input from members, volunteers and all Lincoln Theatre lovers as we near our 100th Anniversary by forming a Centennial Advisory Committee. These Lincoln supporters will work with board members and staff to offer ideas or suggestions that strengthen the theatre's mission, secure our place in the community, and serve as a sounding board for future projects and campaigns. Informal meetings will be held quarterly, or as determined by the committee members, with different planned topics of discussion at each meeting.
Our Fourth meeting will be held on Wednesday, June 26 at 5:30pm. The Agenda: Board Member Alice Collingwood + Staff will lead a discussion on future fundraising plans for this year; including updates on BrewFest (August 10) and Trivia Night (September 20.) Committee Members will also see a preview of our new carpet with installation dates, and installation dates for our new hearing loop system! Light snacks and beverages will be provided!
This is a great way to support the Lincoln without a huge time commitment. Interested? Ideas, Suggestions? RSVP Executive Director Roger Gietzen via roger@lincolntheatre.org or 360.419.7129 x100, Taylor Bannister via taylor@lincolntheatre.org or our Board of Directors via board@lincolntheatre.org.