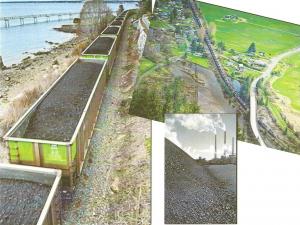 Twenty 1.5 mile long trains per day for decades right through Skagit County. Problems with diesel exhaust, coal dust, traffic, vessel risks, and a huge contribution to climate change—just some of the probable impacts from a proposed coal export terminal at Cherry Point, a few miles past Bellingham. If built, SSA Marine's terminal will export up to 48 million tons of Peabody coal per year, all of it shipped by train through Mount Vernon, Burlington and Skagit farmland. 
Hear from local experts about the proposed project, get your questions answered, and learn how to take action.
Sponsors: RE Sources for Sustainable Communities, Skagit Audubon Society, Transition Fidalgo & Friends, Sierra Club, Climate Solutions, Chuckanut Conservancy, Chuckanut Transition, Fidalgo Backyard Wildlife Habitat, and the Wahington Environmental Council.