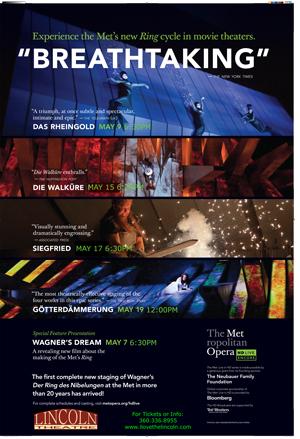 Tickets: $20, 18, 16 w/$2 discount for the Operas; $10, 8, 6 w/$2 member discount for the Documentary: Buy the complete series and get 'Wagner's Dream' free!
The Ring at the Met
The Metropolitan Opera's new production of Wagner's Der Ring des Nibelungen features a cast of today's greatest Wagnerian singers, led by Bryn Terfel (Wotan), Deborah Voigt (Brünnhilde), Jay Hunter Morris (Siegfried), and Jonas Kaufmann (Siegmund). The four-opera epic is directed by Robert Lepage and conducted by Met Music Director James Levine and the company's Principal Conductor Fabio Luisi. The production premiered at the Met over the course of the 2010–11 and 2011–12 seasons.
German composer Richard Wagner (1813–1883) was one of the most influential figures of 19th-century music. His idea of the Gesamtkunstwerk, or "total work of art," combining music, theater, literature, architecture, and other disciplines, has had an impact far beyond the world of opera. The Ring cycle is his masterpiece and took an astounding 26 years to complete. Its story is loosely based on the medieval Icelandic Edda epics and the German Nibelungenlied. The protagonists—Wotan, the king of the gods, his warrior daughter Brünnhilde, and the hero Siegfried—are caught up in the struggle over a magical ring that gives unlimited power.
For the complete Ring Cycle package with the discount for the Wagner's Dream documentary click here: https://www.ticketturtle.com/index.php?subscription=lncln
Click on the titles listed below for more information and individual tickets: