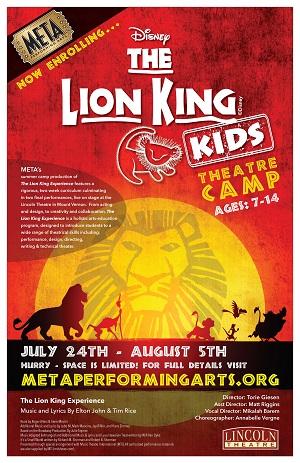 Monday, Jul 24,

10:00 am

to

3:00 pm
Tuesday, Jul 25,

10:00 am

to

3:00 pm
Wednesday, Jul 26,

10:00 am

to

3:00 pm
Thursday, Jul 27,

10:00 am

to

3:00 pm
Friday, Jul 28,

10:00 am

to

3:00 pm
Monday, Jul 31,

10:00 am

to

3:00 pm
Tuesday, Aug 1,

10:00 am

to

3:00 pm
Wednesday, Aug 2,

10:00 am

to

3:00 pm
Thursday, Aug 3,

10:00 am

to

3:00 pm
Friday, Aug 4,

10:00 am

to

3:00 pm
Tuition: $375 + applicable fees, Families registering two, or more, students receive a 10% discount. Financial assistance is available for those who qualify. Ages: 7-14 (All performers must be in 9th grade or younger). Refund/Cancellation Policy: $50.00 of each tuition is non-refundable. The remainder of tuition is refundable up to, and including, the first day of camp. No refunds will be given after the first day. If Camp is cancelled due to lack of enrollment, a full refund will be given
Come see what the kids have learned on Saturday, August 5th. Performance tickets on sale soon!
META PERFORMING ARTS PRESENTS A SUMMER CAMP PRODUCTION OF
The Lion King Experience
Music and Lyrics By Elton John & Tim Rice
Book by Roger Allers & Irene Mecchi
Additional Music and Lyrics by Lebo M, Mark Mancina, Jay Rifkin, and Hans Zimmer
Based on the Broadway Production By Julie Taymor
JULY 24TH - AUGUST 5TH
Disney's The Lion King has captivated the imagination of audiences around the world and now your child has the opportunity to perform in this one-of-a-kind musical. The African savannah comes to life on stage with Simba, Rafiki and an unforgettable cast of characters as they journey from Pride Rock to the jungle... and back again, in this inspiring, coming-of-age tale.
META's summer camp production of The Lion King Experience features a rigorous, two-week curriculum culminating in two final performances, live on stage at the Lincoln Theatre in Mount Vernon. From acting and design, to creativity and collaboration, The Lion King Experience is a holistic arts-education designed to introduce students to a wide range of theatrical skills including: performance, design, directing, writing and technical theater. The Lion King Experience also fulfills many educational standards, including some Common Core State Standards, National Core Arts Standards, and National Standards for Music Education. So, whether your kid's headed to Broadway or the boardroom, these skills will last a lifetime. Plus, they'll have a ton of fun!!
Dates: Classes: July 24th - July 28th, 10:00 AM - 3:00 PM & July 31st - August 4th, 10:00 AM - 3:00 PM
Performances: Saturday, August 5th, 1:00 PM & 4:00 PM (*Noon Cast Call)
META THEATER CAMP IS LEAD BY EXPERIENCED THEATER PROFESSIONALS, WHO LOVE WHAT THEY DO.
Director: Torie Giesen
Assistant Director: Matt Riggins
Vocal Director: Mikalah Barem
Choreographer: Annabelle Vergne