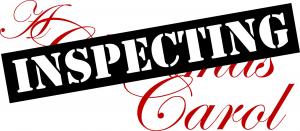 Thursday, Sep 10,

5:30 pm

to

9:00 pm
 
T.A.G. PRESENTS
 
AUDITIONS
FOR
THE  HOLIDAY FARCE
"INSPECTING CAROL"
Directed by Dulcey Whyte
 
Held at the Historic Lincoln Theatre
 
September  10th from 5:30-9pm
An Additional Time Will be Scheduled if Necessary
Callback: September 13th from 1-3pm
 
There will be cold readings from the script. Come with a prepared one minute comedic monologue or joke.
 
Call Ellen to schedule your audition time now!  770-8751
 
Inspecting Carol - synopsis
Mix together a struggling theater company, a tired production of A Christmas Carol, a really bad actor and a visiting inspector from the National Endowment for the Arts and you end up with Inspecting Carol, the off-the-wall holiday farce. Everything that could possibly go wrong does as a fictitious theater company struggles to mount their annual production of the holiday classic.
 
Bad theater has never been this much fun before!  
 
Daniel Sullivan and the Seattle Repertory Company created Inspecting Carol as an antidote to the endless parade of annual productions of A Christmas Carol. As it developed, the piece also grew into a satiric look at government funding for the arts and how it affects the organizations that receive it.
 
 
The insanity begins when the company members of a small regional theater mistake a neophyte (and very bad) actor as an inspector from the National Endowment for the Arts. In order to hold onto their funding, the company does everything possible to keep this person happy, including casting him in their production of A Christmas Carol and letting him rewrite large sections of the story. When the real inspector shows up, the company is forced to perform what can charitably be called the worst production ever of the Dickens' classic.
 
The ghosts of Christmas past, present and future forget their lines, Bob Cratchit throws out his back trying to carry Tiny Tim, Jacob Marley gets tangled in his chains, Mrs. Cratchit becomes a vampy sex kitten, Scrooge begins to speak his lines in Spanish to protest U.S. policy in Central America and the stage manager is stricken with an uncontrollable fit of the giggles… all before things really begin to go wrong!
 
Character Descriptions:
 
Zorah Bloch : Founding director of The Soapbox Playhouse. In her 40's. Extremely self concerned. Dramatic "over the top". Blames everything on her Lithuanian ancestry. Very set in her ways. Artistically challenged. Husband recently passed away. She is willing to do "anything…" to save her theatre.
 
Sidney Carlton : Founding member of the company. In his 60s. Kind but somewhat addled. Good natured. Been there done that. Tad oblivious.
 
Dorothy Tree Hapgood : Sindneys' wife. A founding member of the company. In her 60s. English and unable to loose her accent. Must have proper English accent. Americanized English transplant. Tries to have the last word on accents. A bit eccentric. Kind and mothering.
 
Larry Vauxhall : Founding member of the company. In his 40s. Tough, intellectually vain. Child of the '60s, still looking for a turn-on. Artist desperate to be free. Clashes with Zora on almost everything. Recently went through a divorce and lost everything.
 
Phil Hewlitt : Founding member of the company. In his 40s. Small, obsessive, usually plays the ineffectual character in any Soapbox production. Has difficulty getting over his one time drunken "fling" with Zora. Can be unpredictable and excitable.
 
Walter Parsons : Black in his 30s. Recently taken up acting again after a stint in the armed forces. Good natured, excitable.
 
Luther Beatty : A large eleven-year-old. He's been playing Tiny Tim two years too long. Extremely friendly. Very computer savvy.
 
Kevin Emery : A nervous man in the impossible position of managing director. In his 40s. Afraid of Zora. Not computer savvy.
 
M.J. (Mary Jane) McMann : Founding member. In her 40s. A realist. She long ago realized that the company hit bottom. She looks on now as a bemused observer. Has a dry sense of humor.
 
Wayne Wellacre : In his 30s. In search of a new career in acting, no training, less talent, affable, eager to please. Maniacally and myopically enthusiastic.
 
Bart Frances : A pleasant youth. Dresses in a motorcycle jacket and torn jeans. Does some acting and some backstage stuff for the Soapbox Playhouse.
 
Betty Andrews : In her 40's. An inspector for the National Endowment for the Arts. A forbidding appearance. Bright red hair.