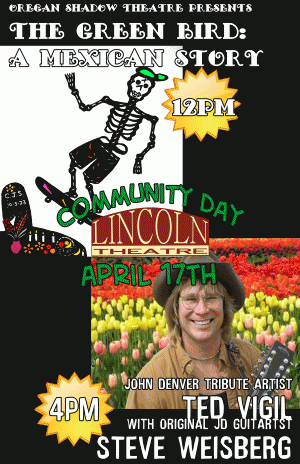 Saturday, Apr 17, 12:00 pm
In addition to this weekend's crowd pleasing adventure-fantasy film Percy Jackson and the Olympians the Historic Lincoln Theatre, for this weekend's Tulip Festival Street Fair, will present these other great family entertainments: on Saturday, as part of our Community Day, we present two bargain priced shows: The Green Bird at 12:00PM and Ted Vigil's John Denver Family Show at 4:00PM, then at 7:30 we welcome back Ted for his John Denver: Songs and Stories concert. 
 
On Sunday from 10:00 to 4:00 we offer free tours of the theatre. The tours will feature backstage lore from our illustrious board members and performances and information on our orignal 1926 Mighty Wurlitzer by the renowned organist Glen DesJardins.