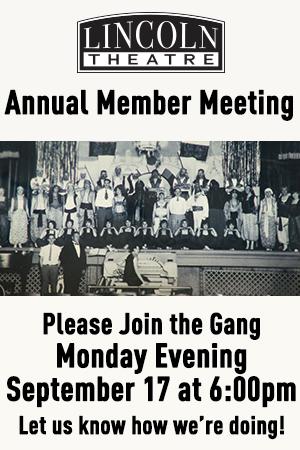 All Lincoln Theatre Members in good standing are invited to our annual Membership Meeting: The State of the Lincoln on Monday, Setpember 17 from 6:00 - 7:00pm. At this meeting you will get a brief view of our last fiscal year at the Lincoln, our hopes for the future, and a chance to vote on Officers of the Lincoln Theatre Center Foundation for the current year. Mount Vernon Mayor Jill Boudreau will be on hand to discuss what the Lincoln means to the City of Mount Vernon and present her vision for a redeveloped downtown core. Theater Arts Guild will perform a musical sneak peak of their upcoming production of Side Show. Come early for an informal social time from 5:30 - 6:00 to meet with our Staff, Board of Directors and Guests to share your ideas and concerns.
 
We had a great year and accomplished a lot in 2017/18! We're looking for 2018/19 to be another stellar year.  We'd like to share it with you, so please try to attend.
All attendees are invited to stay for the evening's film for free!