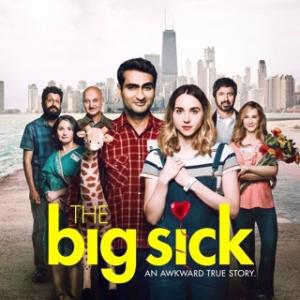 Running Time: 119 minutes
Based on the real-life courtship between Kumail Nanjiani and Emily V. Gordon, The Big Sick tells the story of Pakistan-born aspiring comedian Kumail, who connects with grad student Emily after one of his standup sets. However, what they thought would be just a one-night stand blossoms into the real thing, which complicates the life that is expected of Kumail by his traditional Muslim parents. When Emily is beset with a mystery illness, it forces Kumail to navigate the medical crisis with her parents, Beth and Terry who he's never met, while dealing with the emotional tug-of-war between his family and his heart. 
Directed By: Michael Showalter
Cast: Kumail Nanjiani, Emily V. Gordon, Zoe Kazan, Holly Hunter, Ray Romano, Anupam Kher, and Matty Cardarople.
What the critics are saying:
Certified Fresh on Rotten Tomatoes
"Funny, heartfelt, and intelligent, The Big Sick uses its appealing leads and cross-cultural themes to prove the standard romcom formula still has some fresh angles left to explore."
Richard Roeper, Chicago Sun-Times
"All the best romantic comedies get even better upon repeat viewings. I'm fully confident The Big Sick will pass that test the next time I see it, which will be very soon."
Adam Graham, Detroit News
"The Big Sick has a big heart and shows there are still corners left to explore in romantic comedies; it just takes someone willing to find them."
Film Prices:
Lincoln Theatre Members get a $2 discount on the following prices:
General: $10.50
Seniors, Students and Active Military: $9.50
Children 12 and under: $8.00
Sunday Bargain Prices:
General: $9.00
Children 12 and under: $7.50
Add $2.00 to the above prices for 3D screenings
All prices include a $1.50 Preservation Fee that goes directly into our capital account for preservation of the Lincoln Theatre and its programs. 
 
Members have benefits: Click here for details.
 
Film dates and times are subject to change and extended runs. Please check back here, or our phone message at 360.336.8955, day of show.