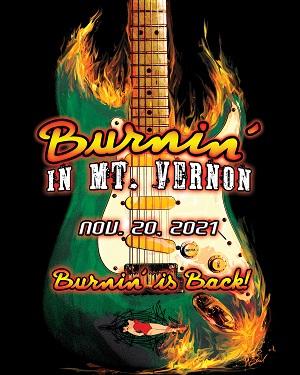 Saturday, Nov 20, 7:30 pm
$80 VIP (1st 4 rows); $30 1st section; $25 2nd section. Tickets will be $5 more at-the door.
Nashville recording artist, Eric Heatherly returns to The Historic Lincoln Theatre with The Chris Eger Band. Two guitarslingers duel it out in a sequel to what was called by many as one of the best nights pre-COVID! Dubbed "Burnin' in Mount Vernon," this show promises to be bigger, better and once again a night long remembered. New songs, raffle giveaways and of course a show like only these guys can give!
A native of Chattanooga, Tennessee, Eric had paid his dues playing nightly for meager tips at Tootsie's Orchid Lounge on Broadway in Nashville. Shania Twain was sufficiently impressed with his chops to hire Heatherly to play lead guitar for her first world tour and to appear with her on the 1997 Country Music Association awards show. His years of dedicated effort were rewarded with a major label deal with Mercury Records that included a cover of The Statler Brothers' "Flowers on the Wall", the first of three singles from his debut album Swimming in Champagne,  His take on country with a surf-rock feel found its way to radio and TV, showing up on CMT, "Austin City Limits," and "Grey's Anatomy." Other laurels include receiving Music Row Magazine's "Critic's Pick" award and being named in Playgirl Magazine as "sexiest singer."
Heatherly has won acclaim from countless fans and from entertainment notables such as guitar legends Duane Eddy and Tony Joe White, and Hollywood types including William Shatner and Robert Rodriguez. His lyrical talents even landed his work on the USA Today best seller list when an author used the words to several of his new songs in her novels. Record deals, chart positions, and fame come and go (often quickly). But Heatherly is in it for the long haul. He continues to develop his craft and strives to be a faithful steward of his God-given talents, directing his energies toward creating and sharing the music he loves for the people who love his music.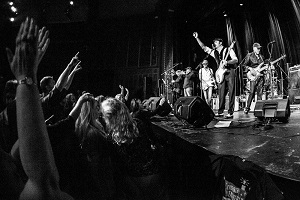 The Chris Eger Band is a fresh, eclectic and electric group that blends a variety of music types into a style of its own. Not many musical genres are left untouched. The group draws on Blues, Rock, Funk, Rockabilly, and R&B/Soul.
CEB is led by guitarist/vocalist Chris Eger, whose funky, blues guitar work and powerful tenor vocals are sure to excite. Eger is backed by bassist and father Randall Eger, who has over 35 years of live performance experience. Drummer, Mark Clark, is a veteran of the Northwest music scene, playing with the likes of the New Deal Rhythm Band and the Chryslers. Clark brings a solid, funky foundation to the group. Rick Jiles, keyboardist and leader of the local favorites "Midlife Crisis & the Alimony Horns," is a tasteful and scintillating addition to the rhythm section. Finally, Pete Kirkman and Mike West lend their talents as the noteworthy and eponymous Powerhouse Horns.
The band's high-energy performances are always a crowd pleaser and signature of what the cast brings. Whether it's a rockin' blues beat or a mellow groove, the band is tight, funky and dishes out plenty of soul.
Many fans of local stalwarts The Chris Eger Band will recognize Eric's song "Wrong Five O'Clock" as a staple of Chris' set. Eric has been a longtime guitar-hero to Chris since age 13, when Heatherly's tour first came through the Northwest. In March of 2016, The CEB released the Nashville recorded "Show Me Where to Sign," an album with Eric at the helm as producer. Now, for the first time, these two guitar-slingers will share the stage for a surely memorable experience.