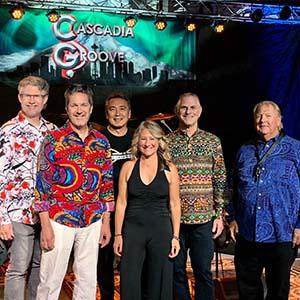 Saturday, Apr 10, 7:30 pm


Cascadia Groove is a group of experienced, talented musicians playing a mix of original funky, danceable jazz tunes along with unique versions of memorable covers. 
The members are:
Lance Gibbon (keyboards), Gary Tobin (guitar), Alex Sheldon (drums), Paul Sherman (bass), Keith Stone (tenor saxophone) and Tracy Jones (vocals and sax)
The music of Cascadia Groove is tight and upbeat, bringing smiles to their fans' faces and movement to the feet. The original tunes are all composed by band leader and guitarist, Gary Tobin. The rest of the music draws from Michael Jackson, Stevie Wonder, The Average White Band, Herbie Hancock, and many others.  An entertaining night of music can be guaranteed. 
Support for the series comes from Margaret and Allen Bird, and Cindi and Steve Olszewski, Mr. Don Wick, Dimensional Communications, Logan Creek and JRivera & Associates. A big thank you to to Colby and Brett from Dimensional Communications for their technical assistance. Virtual Portrait Support: Wendy and Roger Ragusa, Susan Wilson and Eric Hall, Duncan West and Mary Deaton, Peggy Sue Erickson, Roger Gietzen and Chelan Robbins, Taylor Bannister, Cathy and Walter Pfahl.
The concerts will be streamed on our Youtube channel by donation. Proceeds will be split 50/50 between the performers and the Lincoln Theatre Center Foundation.
Artists: Are you ready to get back on stage? Please email roger@lincolntheatre.org if you are interested in being a part of this series.
Sponsors: Would you like to help offset crew and licensing costs? Low cost sponsorships are available. Click HERE for a PDF to the sponsor agreement. Please email roger@lincolntheatre.org for more information.