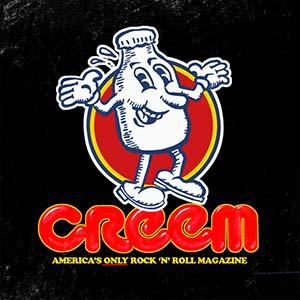 Friday, Aug 7 (All day)

to

Thursday, Aug 27 (All day)
QUARANTINE CINEMA OFFERING
AVAILABLE STARTING AUGUST 7

Ripping back the curtain on legendary rock rag CREEM Magazine's wild and disruptive newsroom; a dysfunctional band of unruly outsiders who weren't all that different from the artists they covered.
Capturing the messy upheaval of the '70s just as rock was re-inventing itself, the film explores CREEM Magazine's humble beginnings in post-riot Detroit, follows its upward trajectory from underground paper to national powerhouse, then bears witness to its imminent demise following the tragic and untimely deaths of its visionary publisher, Barry Kramer, and its most famous alum and genius clown
prince, Lester Bangs, a year later. Fifty years after publishing its first issue, "America's Only Rock 'n' Roll Magazine" remains a seditious spirit in music and culture.
Featuring appearances by: Jeff Ament, Billy Altman, Johnny "Bee" Badanjek, Lester Bangs, Michael Des Barres, Bebe Buell, Dan Carlisle, Patrick Carney, Robert Christgau, Alice Cooper, Cameron Crowe, Roberta "Robbie" Cruger, Jeff Daniels, Niagara Detroit, Dave DiMartino, Robert Duncan, Chuck Eddy, Shepard Fairey, Ben Fong-Torres, Kirk Hammett, Bill Holdship, John Holmstrom, Resa Jannett, Joan Jett, Craig S. Karpel, Lenny Kaye, Scott Kempner, Barry Kramer, Connie Kramer, JJ Kramer, Wayne Kramer, Jack Kronk, Toby Mamis, Greil Marcus, Michael N. Marks, Legs McNeil, Thurston Moore, Ted Nugent, Ann Powers, Neal Preston, Patti Quatro, Suzi Quatro, Scott Richardson, Wayne Robins, Linda Barber Roach, Mitch Ryder, Gene Simmons, John Sinclair, Chad Smith, Lamar Sorrento, Paul Stanley, Robert Stark, Chris Stein, Scott Sterling, Michael Stipe, Gregg Turner, Jaan Uhelszki, Sandra Stretke Van Landingham, John Varvatos, Ed Ward, Don Was, Susan Whitall, James Williamson, Peter Wolfe
"Future scholars looking into the cultural mindset of the mid-'70s need to make a Creem immersion their first step. Without it, they won't have a clue what young people were thinking." - Mick LaSalle, San Francisco Chronicle
Director: Scott Crawford
USA | English | 2020 | Documentary | 75 minutes | NR 
$9.99 for a 72 hour rental period. 
HOW TO WATCH: TELEVISION (via the the downloaded APPLE TV or ANDROID app, or CHROMECAST) MOBILE DEVICE (iPhone, iPad, Android) | COMPUTER (by clicking on the link below).
For more information on how the rental works:
Click the button above, or follow THIS LINK to purchase entry to our digital screening room.
Create an account – it's very easy! – and complete your purchase.
Watch as much as you like for 72 hours!
For any questions regarding streaming, device, connection, or payment issues, you will need to reference these links and reach out directly Eventive here.
For non-streaming questions, please feel free to reach out to us at admin@lincolntheatre.org