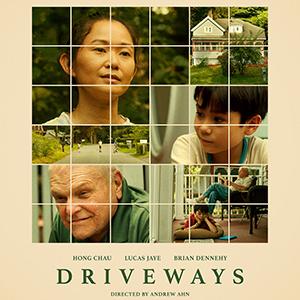 Friday, May 15 (All day)

to

Thursday, Jun 4 (All day)
VIRTUAL CINEMA OFFERING
OPENS FRIDAY, MAY 15

Help support the Lincoln Theatre through this unique partnership with FilmRise and Row House Cinema!
Cody is a sweet, sensitive boy who doesn't always fit in easily with other kids his age. He's not bothered by spending the summer in an unfamiliar New York town while his mother, Kathy, cleans out the house left behind by his recently deceased aunt, trying to ready it for sale. As Kathy--estranged from her reclusive sister for years--learns how much she didn't know about the woman, Cody strikes up a surprising friendship with the gruff Korean War vet who lives next door. Nominated for two Independent Spirit Awards, DRIVEWAYS is a beautifully observed, bittersweet drama about our lifelong search for a sense of community. With a genuine script and impeccable acting from Hong Chau (Downsizing) and Brian Dennehy (First Blood), this little gem doesn't coax tears, but earns them.
"Understated yet powerful, Driveways is a character study anchored in fundamental decency -- and a poignant farewell to Brian Dennehy." Certified Fresh on Rotten Tomatoes
Director: Andrew Ahn
English | 2019 | Documentary | 83 minutes | NR 
$12 for a 72 hour rental period.
45% of your ticket purchase directly supports the Lincoln Theatre, while the remainder support independent filmmaking & distribution.
HOW TO WATCH: TELEVISION (via the the downloaded APPLE TV or ANDROID app, or CHROMECAST) MOBILE DEVICE (iPhone, iPad, Android) | COMPUTER (by clicking on the link below).
For more information on how the rental works:
Click the button above, or follow THIS LINK to purchase entry to our digital screening room for Driveways for a $12 rental on Row House Cinema's secure virtual screening room created just for patrons of the Lincoln Theatre.
Create an account – it's very easy! – and complete your purchase.
Watch as much as you like for 72 hours!
For any questions regarding streaming, device, connection, or payment issues, Row House Cinema can help you here.
For non-streaming questions, please feel free to reach out to us at admin@lincolntheatre.org