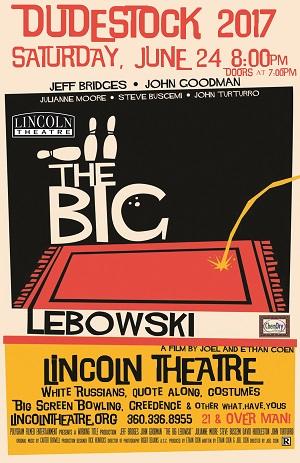 Saturday, Jun 24, 8:00 pm
Running Time: 118 minutes
Our seventh annual Dudestock party, sponsored by ChemDry of Mount Vernon returns to the Lincoln on Saturday, June 24 at 8:00pm!
Dudestock celebrates all things related to the 1998 cult favorite The Big Lebowski. Fans of the film (aka "Achievers") come from far and wide to drink White Russians, listen to Creedence and celebrate with an array of Dudes, Walters and Maudes (not to mention a nihilist or two) one of cimemas greatest achievements. 
Prizes will be awarded for best costume in several categorie, inlcuding a chance to win a comfy couch seat in the theatre for the show!. Come in your bathrobe if you like! Arrive early (doors at 7pm, film at 8pm) for Big Screen Bowling.
 
The plot of this Raymond Chandler-esque comedy crime caper from the Coen Brothers (Joel Coen and Ethan Coen) pivots around a case of mistaken identity complicated by extortion, double-crosses, deception, embezzlement, sex, pot, and gallons of White Russians (made with fresh cream, please). In 1991, unemployed '60s refugee Jeff "The Dude" Lebowski (Jeff Bridges) grooves into his laid-back Los Angeles lifestyle. One of the laziest men in LA, he enjoys hanging with his bowling buddies, pompous security-store owner Walter Sobchak (John Goodman) and mild-mannered ex-surfer Donny (Steve Buscemi). However, the Dude's life takes an alternate route the afternoon two goons break into his threadbare Venice, California, bungalow, rough him up, and urinate on his living room rug. Why? Because Jackie Treehorn (Ben Gazzara) is owed money by the wife of a certain Jeff Lebowski. However, the goons grabbed the wrong Jeff Lebowski. With the right info, they would have invaded the home of philanthropic Pasadena millionaire Jeffrey Lebowski (David Huddleston). The Dude looks up his wealthy namesake, manages to get a replacement for his rug, and meets the millionaire's sexy young wife Bunny (Tara Reid). Later, Jeffrey ("The Big") Lebowski calls in the Dude to deliver a $1 million ransom for the return of his kidnapped wife. Fine -- except that Walter intrudes and botches the ransom drop. As events unravel, the Dude gets caught up in the schemes of Lebowski's daughter, erotic artist Maude (Julianne Moore), encounters both cops and bad guys, and drifts through an elaborate bowling fantasy sequence titled Gutterballs. The soundtrack includes Bob Dylan, Yma Sumac, Moondog, Captain Beefheart, and the Sons of the Pioneers. 
If you'd like to imbibe your White Russian or other cold beverage while partaking in the film, no problemo! this film is a 21+ event. 
 
Tickets: $12 in advance, $15 at the door. Members, as usual, get a $2 discount!
'Everybody that has been around knows a dude.... and the dude abides.'