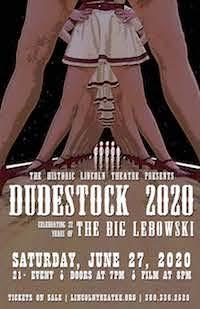 Saturday, Aug 15, 7:00 pm
It looks as though the COVID GODS WILL NOT ALLOW The Big Lebowski to turn 22 at DUDESTOCK 2020 on this date, but F*** it Man, we'll roll on another date as soon as we reach Phase 3! 
Our 10th annual DudeStock this year celebrates the 22nd Anniversary of the greatest film ever made! At DudeStock we raise our Caucasians to all things related to the 1998 cult favorite. Fans of the film (aka "Achievers") come from far and wide to drink White Russians while partaking in the film, listening to Creedence and partying with an array of Dudes, Walters, Maudes and (hopefully) Jesus' to one of cinemas greatest achievements. Prizes will be awarded for best costumein several categories, including a chance to win a comfy couch seat in the theatre for the show! Arrive early (doors at 7pm, film at 8pm) for Big Screen Bowling. 
The plot of this Raymond Chandler-esque comedy crime caper from the Coen Brothers pivots around a case of mistaken identity complicated by extortion, double-crosses, deception, embezzlement, sex, pot, and gallons of White Russians. Jeff `The Dude' Lebowski is mistaken for Jeffrey Lebowski, who is The Big Lebowski. Which explains why he's roughed up and has his precious rug peed on. In search of recompense, The Dude tracks down his namesake, who offers him a job. His wife has been kidnapped and he needs a reliable bagman. Aided and hindered by his pals Walter Sobchak, a Vietnam vet, and Donny, master of stupidity. The soundtrack includes Bob Dylan, Yma Sumac, Moondog, Captain Beefheart, The Sons of the Pioneers and Creedence!
Directed by: Joel and Ethan Coen 
Cast: Jeff Bridges, John Goodman, Steve Buscemi, Julianne Moore, David Huddleston, Peter Stormare, Philip Seymour Hoffman, Flea, Sam Elliott, Tara Reid, John Turturro, David Thewlis, Ben Gazzara, Jimmie Dale Gilmore, and Aimee Mann.
This film is a 21+ event. White Russians and Ten Pin Gutterball Hazy Pale and Strike IPA will be available for purchase in our Art Bar. Sarsaparilla will be available if you choose not to imbibe.
Tickets: $12 in advance, $15 day of show. No Film Passes. Members, as usual, get a $2 discount! Participation bags, full of cool what-have-yous, will be available at the door for $10 or by clicking here.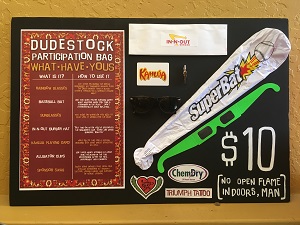 Thank you to our generous Producer Level Sponsors fot making this event extra special :