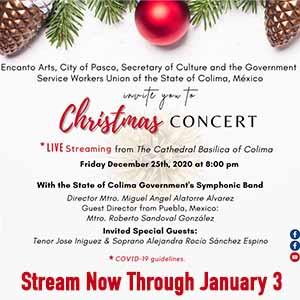 Wednesday, Dec 30 (All day)

to

Sunday, Jan 3 (All day)


Stream this Christmas Concert hosted by Encanto Arts, City of Pasco, Secretary of Arts and Culture, and the Government Service Workers Union of the State of Colima, México. This magnificent event was live streamed on Christmas Day from the beautiful Cathedral Basilica of Colima, Mexico. This concert is brought to you with the support of Ramon Rivera of MV Mariachi and Jose Iniguez of EncantoArts.
Feeling Moved to DONATE? You can contribute to help SAVE OUR STAGES AND PERFORMERS HERE.
Live streamed on Christmas Day from the Cathedral Basilica of Colima, México with the State of Colima Government's Symphonic Band and directed by Maestro Miguel Alatorre Alvarez, Guest Director from Puebla, Mexico, Maestro Roberto Sandoval Gonzalez. Invited soloists Executive Director of Encanto Arts & Tenor Jose Iniguez from WA State and the talented Soprano Alejandra Rocío Sanchez Espino from Colima, Mexico. Enjoy the medley of your favorite Christmas carols through out the concert and music arranged from Encanto Arts composer Andrew Pang.
PROGRAMA PROPUESTO:
1. A CHRISTMAS FESTIVAL – LEROY ANDERSON. 7 min. Instrumental.
2. AVE VERUM CORPUS- W. AMADEUS MOZART. 4 min. Presentacion de la obra con coro reducido (sopranos, contralto, tenor y bajos).
3. EL PRINCIPE DE EGIPTO – STEPHEN SCHWARTZ. 8 min. Instrumental.
4. O MIO BABBINO CARO –GIACOMO PUCCINI. 6 min. Interpretada con solista Soprano.
5. NESSUN -DORMA– GIACOMO PUCCINI. 4 min. Interpretado con solista Tenor.
6. PANIS ANGELICUS. 4 min. Interpretada con solista Soprano y Tenor.
7. SLEIGH RIDE - LEROY ANDERSON. 3 min. Instrumental.
8. NOCHE DE PAZ- VILLANCICO TRADICIONAL. 3 min. Presentación de la obra con 2 solistas (Soprano y Tenor) y coro.
9. THE PRAYER - made famous by Celion Deon & Andrea Boccelli. This has been transposed to Spanish language
10. O HOLY NIGHT - Josh Groban and Kelly Clarkston rendition but it has been transposed to spanish.
11. SILENT NIGHT/NOCHE DE PAZ
Support for the series comes from Margaret and Allen Bird, and Cindi and Steve Olszewski, Mr. Don Wick, Dimensional Communications, Logan Creek and JRivera & Associates. A big thank you to to Colby and Brett from Dimensional Communications for their technical assistance. Virtual Portrait Support: Wendy and Roger Ragusa, Susan Wilson and Eric Hall, Duncan West and Mary Deaton.
The concerts will be streamed free on Youtube with donations accepted. Proceeds will be split 50/50 between the performers and the Lincoln Theatre Center Foundation.
Artists: Are you ready to get back on stage? Please email roger@lincolntheatre.org if you are interested in being a part of this series.
Sponsors: Would you like to help offset crew and licensing costs? Low cost sponsorships are available. Cilck HERE for a PDF to the sponsor agreement. Please email roger@lincolntheatre.org for more information.