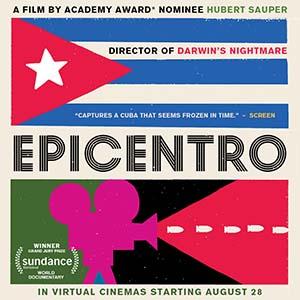 Friday, Aug 28 (All day)

to

Thursday, Sep 17 (All day)
QUARANTINE CINEMA OFFERING
AVAILABLE STARTING AUGUST 28

Epicentro is an immersive and metaphorical portrait of post-colonial, "utopian" Cuba, where the 1898 explosion of the U.S.S. Maine still resonates. This Big Bang ended Spanish colonial dominance in the Americas and ushered in the era of the American Empire. At the same time and place, a powerful tool of conquest was born: cinema as propaganda. In his latest film, Academy Award nominee Hubert Sauper (Darwin's Nightmare) explores a century of interventionism and myth-making together with the extraordinary people of Havana—who he calls "young prophets"—to interrogate time, imperialism and cinema itself.
"A hypnotic immersion into a country and culture embargoed by decades of our country's foreign policy, "Epicentro" combines the absurdist cinematic meditations of Werner Herzog with... John Gianvito's poetic investigations into American imperialism." - Peter Keough, Boston Globe
Join us for Q&As with Academy Award-nominated director Hubert Sauper!
Sunday, August 30 at 12:00pm PT
Hosted by Museum of the Moving Image
Set a reminder!
Saturday, September 5 at 12:00pm PT
Hosted by the Coolidge Corner Theatre
Director: Hubert Sauper
Austria, France | Spanish | 2020 | Documentary | 109 minutes | NR 
$12.00 for a 48 hour rental period. 
HOW TO WATCH: TELEVISION (via the the downloaded APPLE TV or ANDROID app, or CHROMECAST) MOBILE DEVICE (iPhone, iPad, Android) | COMPUTER (by clicking on the link below).
For more information on how the rental works:
Click the button above, or follow THIS LINK to purchase entry to our digital screening room.
Create an account – it's very easy! – and complete your purchase.
Watch as much as you like for 48 hours!
For any questions regarding streaming, device, connection, or payment issues, you will need to reference these links and reach out directly to the distributor HERE.
For non-streaming questions, please feel free to reach out to us at admin@lincolntheatre.org