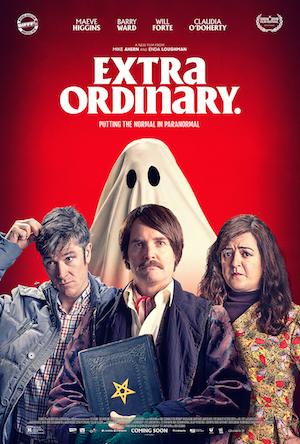 Friday, Apr 17 (All day)

to

Thursday, May 7 (All day)
VIRTUAL CINEMA OFFERING
STARTS FRIDAY APRIL 17

Help support the Lincoln Theatre through this unique partnership with Good Deed Entertainment and Kino Lorber!
Rose, a sweet, lonely driving instructor in rural Ireland, is gifted with supernatural abilities. Rose has a love/hate relationship with her 'talents' & tries to ignore the constant spirit related requests from locals – to exorcise possessed rubbish bins or haunted gravel. But! Christian Winter, a washed up, one-hit-wonder rock star, has made a pact with the devil for a return to greatness! He puts a spell on a local teenager- making her levitate. Her terrified father, Martin Martin, asks Rose to help save his daughter. Rose has to overcome the fear of her supernatural gift & work with Martin to save the girl, get the guy and be home in time for a light snack…maybe a yogurt or something…
Directed by Mike Ahern, Enda Loughman
Ireland, Belgium, Finland, UK | 2020 | Action & Adventure, Comedy, Romance | 93 minutes | R
"A horror/rom-com hybrid that somehow manages to blend its ingredients without losing their flavor, Extra Ordinary more than lives up to its title."
- Certified Fresh on Rotten Tomatoes
"Extra Ordinary" is an extraordinarily funny tale about ghostbusting, lonely hearts and moving on. It'll possess you."
- Adam Graham, DETROIT NEWS
$12 for a five-day pass.
With each screening of EXTRA ORDINARY purchased, the Lincoln Theatre will receive 40% of the ticket price and the distributors and filmmakers receive the other 60%. Thank you for supporting the Lincoln!
HOW TO WATCH: COMPUTER, PHONE, TABLET or cast to your GOOGLE CHROMECAST or SMART TV | TELEVISION with Kino Now app for ROKU or APPLE TV (requires tvOS 9.0 or later)
For more information on how the rental works:
Click the button above, or follow THIS LINK to purchase entry to our digital screening of EXTRA ORDINARY for only $12 on Kino Marquee's secure virtual screening room created just for patrons of the Lincoln Theatre.
Create an account – it's very easy! – and complete your purchase.
Watch as much as you like for 5 days!
For any questions regarding streaming, device, connection, or payment issues, you will need to reference these links and reach out directly Kino Lorber here. Here is a link to their FAQ.
For non-streaming questions, please feel free to reach out to us at admin@lincolntheatre.org