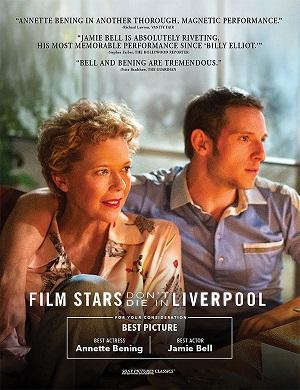 Running Time: 105 minutes
Based on Peter Turner's memoir, the film follows the playful but passionate relationship between Turner and the eccentric Academy Award-winning actress Gloria Grahame in 1978 Liverpool. What starts as a vibrant affair between a legendary femme fatale and her young lover quickly grows into a deeper relationship, with Turner being the person Gloria turns to for comfort. Their passion and lust for life is tested to the limits by events beyond their control.
Directed By: Paul McGuigan
Cast: Annette Bening, Jamie Bell, Julie Walters, Stephen Graham, Vanessa Redgrave, and Kenneth Cranham.
What the critics are saying:
"Worth seeing for Bening's brave and touching performance as an actress past her prime."
Rafer Guzman - Newsday
"Bening finds the shattered beauty in Grahame, the tragedy of an ex-star hanging on for dear life to her waning looks and fame that has long since passed her by." 
Adam Graham - Detroit News
"Bening is outstanding as a woman who fears that her fame and beauty are slipping away, and Bell ("Billy Elliot") brings to his character a heartbreaking vulnerability."
Calvin Wilson - St. Louis Post-Dispatch
 
Film Prices:
Lincoln Theatre Members get a $2 discount on the following prices:
General: $10.50
Seniors, Students and Active Military: $9.50
Children 12 and under: $8.00
Sunday Bargain Prices:
General: $9.00
Children 12 and under: $7.50
Add $2.00 to the above prices for 3D screenings
All prices include a $1.50 Preservation Fee that goes directly into our capital account for preservation of the Lincoln Theatre and its programs. 
 
Members have benefits: Click here for details