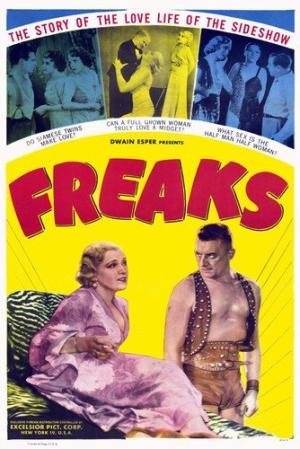 Didn't get enough of Siamese twins Violet and Daisy Hilton from TAG's production of Side Show earlier this month? 
In 1931, fresh off the success of his horror hit Dracula, director Tod Browning finally got the go-ahead to pursue a longtime passion project of his: a revenge tale centered around sideshow performers in a traveling circus. Eager to produce their own horror films that could rival Dracula, MGM let Browning make Freaks, one of the most ambitious and gutsy filmmaking efforts in Hollywood at the time. Though today many regard it as a classic, or at least a cult favorite, Freaks did not have the same reception in the early 1930s. Its title characters faced scrutiny and revulsion on the MGM backlot, and the film itself faced scandalized audiences nationwide. Those test screenings in early 1932 were disasters, and MGM took the movie away from Browning and slashed almost a half hour from the film. The original runtime of an hour and a half had been cut to just 64 minutes. What was removed has become the stuff of legend; back in the early 30s nobody bothered to save deleted scenes, and so no one alive today has ever seen the complete version of Freaks.
Now, nearly 90 years after its initial release, Freaks remains a unique work in Hollywood history. Real sideshow performers star in Tod Browning's infamous 1932 cult classic, a grotesque revenge drama set against a circus backdrop. Trapeze artist Cleopatra plans to wed and then murder midget Hans for his fortune, but when his fellow 'freaks' discover her scheme, she becomes the target of their horrifying vengeance.
Warning: Freaks was banned in many countries (for 30 years in Britain) as too graphic a display of humans with the severest of physical disabilities. "Today, it looks like a damning antidote to the cult of physical perfection and an extraordinary tribute to the community of so-called freaks who made up its cast." Derek Malcolm, The Guardian.
Director: Tod Browning
Cast: Harry Earles, Olga Baclanova, Wallace Ford, Leila Hyams, Roscoe Ates, and Daisy and Violet Hilton.
What the critics are saying:
"Time has been kind to this horror legend: Freaks manages to frighten, shock, and even touch viewers in ways that contemporary viewers missed." - Certified Fresh Rotten Tomatoes
"[Boasts] some of the most terrifying scenes ever consigned to film." - Joe Morgenstern, Wall Street Journal
"One of the most powerful films ever made about the need for humanity and solidarity in the face of cruelty and oppression." - Tom Huddleston, Time Out
WE EXPECT SOMETHING SPECIAL FROM THE CAST OF SIDE SIDE BEFORE THE FILM!
Film Prices:
General: $10.50
Seniors, Students and Active Military: $9.50
Children 12 and under: $8.00
Lincoln Theatre Members get a $2 discount !
A special discount code has been sent to all Side Show Theatre Goers. You can use it online, via our Box Office, or at-the-door!
All prices include a $1.50 Preservation Fee that goes directly into our capital account for preservation of the Lincoln Theatre and its programs. 
 
Members have benefits: Click here for details