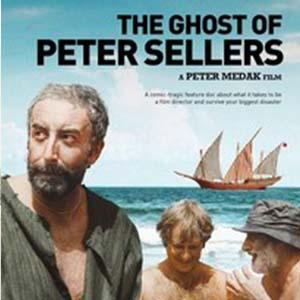 Friday, May 22 (All day)

to

Thursday, Jun 11 (All day)
VIRTUAL CINEMA OFFERING
OPENS FRIDAY, MAY 22

Help support the Lincoln Theatre through this unique partnership with 1091 and Circle Collective!
A comedy genius, a hot new director and a 17th Century pirate film. What could possibly go wrong?
In 1973 Peter Sellers embarked on a pirate comedy for Columbia Pictures. He lost confidence with the film immediately and tried to sabotage it, firing the Producers then turning on his friend the Director, Peter Medak. At its core lies the story of an unraveling production but also the tale of a young Director firmly on a path to greatness. Medak had made 3 back-to-back successes; most notably 'The Ruling Class' in '72 with Peter O' Toole. This film changed his life forever. After 43 years the wounds have barely healed for Medak and this is his opportunity to tell the story and finally release the weight associated with its failure. The Ghost of Peter Sellers is a comic-tragic feature doc about what it takes to be a film director and survive your biggest disaster. Featuring appearances by: Peter Medak, Joe Dunne, Simon van der Borg, Norma Farnes, Susan Wood, John Heyman, John Goldstone, David Korda, Ruth Myers, Piers Haggard, Joe McGrath, Costas Evagorou, Murray Melvin, Costas Demetriou, Dr. Tony Greenburgh, Dennis Frazer, Rene Borisewitz, Robert Wagner, Victoria Sellers, Sandy Lieberson, Maggie Abbott, Rita Franciosa, and Antony Rufus Isaacs.
Directed by Peter Medak
Produced by Paul Iacovou
"I feel ghostly unreal until I become somebody else again on the screen" – Peter Sellers
"Sellers was the epitome of the man who is much more comfortable inhabiting alternative personalities than sticking with his own."​ -Director Peter Medak
Cyprus | English  | 2018 | Documentary | 93 minutes | NR 
$10 ($18 - $8 discount ) for a 48 hour rental period. 50% of your ticket purchase directly supports the Lincoln Theatre, while the remainder support independent filmmaking & distribution.
HOW TO WATCH: TELEVISION (via the the downloaded APPLE TV or ANDROID app, or CHROMECAST) MOBILE DEVICE (iPhone, iPad, Android) | COMPUTER (by clicking on the link below).
For more information on how the rental works:
Click the button above, or follow THIS LINK to purchase entry to our digital screening room.
Create an account – it's very easy! – and complete your purchase, you can also gift a screening to a friend of family member.
Watch as much as you like for 48 hours!
For any questions regarding streaming, device, connection, or payment issues, Row House Cinema can help you here.
For non-streaming questions, please feel free to reach out to us at admin@lincolntheatre.org