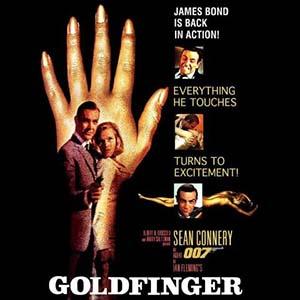 Sir Sean Connery has died. He was 90 years old. He became a star by creating the role of James Bond onscreen with his distinctive, much-imitated, Scottish brogue. We're remembering the life and work of Sean Connery by spotlighting two of his iconic performances on the big screen in DR. NO and GOLDFINGER.
James Bond is back in action! Everything he touches turns to excitement!
In Goldfinger, special agent 007 comes face to face with one of the most notorious villains of all time, and now he must outwit and outgun the powerful tycoon to prevent him from cashing in on a devious scheme to raid Fort Knox -- and obliterate the world's economy.
"Goldfinger is where James Bond as we know him comes into focus - it features one of 007's most famous lines ("A martini. Shaken, not stirred") and a wide range of gadgets that would become the series' trademark.​." -- Certified Fresh, Rotten Tomatoes
Director: Guy Hamilton
Cast: Sean Connery, Gert Fröbe, Honor Blackman, Shirley Eaton, Bernard Lee, Lois Maxwell
UK | English | 1964 | Action, Adventure, Thriller | 110 minutes | PG 
Film Prices
Lincoln Theatre Members get $2 off on the following prices with discount code:
General: $11.00
Seniors, Students and Active Military: $10.00
Children 12 and under: $8.50
Sunday Bargain Prices:
General: $9.50
Children 12 and under: $8.00
All prices include a $2.00 Preservation Fee that goes directly into our capital account for preservation of the Lincoln Theatre and its programs.