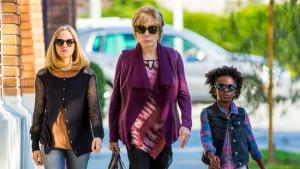 Shirley MacLaine is Harriet Lauler, a once successful businesswoman in tight control of every aspect of her life. As she reflects upon her accomplishments, she's suddenly inspired to engage a young local writer, Anne Sherman (Amanda Seyfried), to pen her life's story. When the initial result doesn't meet Harriet's high expectations, she sets out to reshape the way she is remembered, with Anne dragged along as an unwilling accomplice. As the journey unfolds, the two women develop a unique bond which alters not only Harriet's legacy, but also Anne's future.
Director: Mark Pellington
Cast: Shirley MacLaine, Amanda Seyfried, Anne Heche, Thomas Sadoski, Philip Baker Hall, and Tom Everett Scott
What the critics are saying:
If nothing else, the dramatic comedy The Last Word provides one thing: It gives Shirley MacLaine a great role in which to sink her teeth. That turns out to be a gift not only to the Hollywood veteran but to audiences 
Mike Scott, New Orleans Times-Picayune
While it's tempting to dismiss the project as a cutesy cookie-cutter showcase designed to capitalize on the good will of a grand star, MacLaine is brilliant, even when the material isn't quite worthy of her. Or her director.
Philip Martin, Arkansas Democrat-Gazette
Film Prices:
General: $10.00
Seniors, Students and Active Military: $9.00
Members: $8.00
Children 12 and under: $7.00
Sunday Bargain Prices:
General: $8.00
Members: $6.00
Children 12 and under: $7.00
Add $2.00 to the above prices for 3D screen
Your membership with the Lincoln Theatre saves you $2.00 per film ticket.
*All prices include a $1.50 Preservation Fee that goes directly into our capital account for preservation of the Lincoln Theatre and its programs. Film tickets are only available at the door beginning 45 minutes before the first screening of the day. This saves you, the ticket buyer the fees associated with purchasing online. Never fear – there are plenty of seats!
 
Members have benefits: Click here http://www.lincolntheatre.org/benefits-membership for details.
 
Film dates and times are subject to change and extended runs. Please check back here, or our phone message at 360.336.8955, day of show.