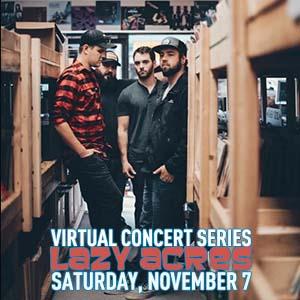 Stream LAZY ACRES Live from the Lincoln Theatre's Stage! You'll find the stream going live at 7:00pm Saturday, November 7 on our YouTube Channel. The concert begins at 7:30pm.
What do you get when you mix a velvety, down home vocal tone with melodious flowing lyrics, spectacular guitar riffs, smooth, rhythmic bass and powerfully thunderous percussions? You get Lazy Acres, a burgeoning band from Sedro-Woolley, Washington. 
Lazy Acres is a four piece ensemble which includes Wes Jones (lead singer-songwriter, acoustic guitar), Jeff Spradlin (lead electric guitar, background vocals), Joe Hayes (electric bass guitar, background vocals) and Trevor Lance (percussion, background vocals). Lead singer-songwriter Wes Jones' vocals are dynamically smooth as he sings his spirited brand of rock. Jeff's scintillating guitar riffs, Joe's driving bass heartbeat and Trevor's insane drum patterns round out to being one of the best bands to ever come out of Skagit County. Each of these musicians have been playing music for a dozen years in different groups, however this is a relatively new band. In fact, this particular Lazy Acres lineup has only been established for a little more than a year; yet due to the ingenuity of these artists, it sounds like they've been making music together for decades. Don't be fooled by the small town boyish charm of these musicians. They're unwaveringly focused on driving their rock & roll style right to the top.
Wes Jones is a creatively profuse song-writer and has been producing material in abundance over the last few years. Most of the themes to his tracks are of small town relatable topics: the character of men, growing up in a small town, the process of growing from a boy to a man, blue collar life, being proud and genuine …… and they throw in some rebellious outlaw concepts for fun. 
Find out what makes these guys tick, their musical progression individually, as well as together, and what makes Lazy Acres a premiere PNW band at this livestream event.
Website- https://thatlazyacresband.com
Facebook- https://www.facebook.com/TheLazyAcresBand/
Instagram- https://www.instagram.com/lazyacresband/
Support for the series comes from Mr. Don Wick, Dimensional Communications, Logan Creek and JRivera & Associates. A big thank you to to Colby and Brett from Dimensional Communications for their technical assistance. Virtual Portrait Support: Wendy and Roger Ragusa, Susan Wilson and Eric Hall.
The concerts will be streamed free on Youtube with donations accepted. Proceeds will be split 50/50 between the performers and the Lincoln Theatre Center Foundation.
Artists: Are you ready to get back on stage? Please email roger@lincolntheatre.org if you are interested in being a part of this series.
Sponsors: Would you like to help offset crew and licensing costs? Low cost sponsorships are available. Cilck HERE for a PDF to the sponsor agreement. Please email roger@lincolntheatre.org for more information.