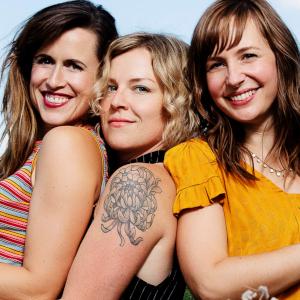 Advance Reserved Seating Tickets: $39 1st Tier; $34 2nd Tier; $29 3rd Tier; $24 4th Tier + applicable fees. Lincoln Theatre Members receive $2 off all ticket tiers.
ALL TICKETS TO THE PREVIOUSLY-CANCELED MARCH 26 PERFORMANCE WILL BE HONORED. 
Tin Hut Concerts and the Lincoln Theatre present Good Lovelies, returning to the Lincoln for their third appearance.
You hear it a lot – the idea that something is greater than the sum of its parts – and yet there's really no better way to describe the musical essence of the Good Lovelies.
Kerri Ough, Sue Passmore, and Caroline Brooks are immensely talented vocalists and songwriters in their own right; however, as hundreds of Lincoln audience members have already discovered, it's their voices interwoven in harmony – powerful and pure, organic and inspiring – that elevates the Good Lovelies from impressive to peerless.
Over the course of their decade-plus career, they've covered plenty of stylistic ground, adding tinges of pop, roots, jazz, and even hip-hop to their country folk core.
The trio first united in 2006 for a one-off performance and has since compiled a catalogue of four studio albums, a live album, two Christmas albums, and a pair of EPs. Through it all, the unmistakable sound of their intertwined voices has been the sonic anchor, and that remains true as the Good Lovelies pushed further into the mainstream in 2018 with their most accessible and pop-influenced output to date, Shapeshifters.
Shapeshifters offers a perfect balance between a more modern production style and the musical influences that have made them a household name over the years. What's more, the songs themselves build on the Good Lovelies' familiar foundation with a widespread appeal.
For their efforts, the Good Lovelies have earned a Juno, four Canadian Folk Music Awards, and most recently, a SOCAN #1 award for their song "I See Gold", which topped the CBC Top 20 chart in January 2018. Gracing stages such as Toronto's historic Massey Hall, the band continues to grow internationally.
If what happens next goes according to plan, the Good Lovelies will see their profile propelled to new heights thanks to a contemplative creative approach and a new spin on the signature sound that's earned them audiences and accolades the world over.
This performance will be streamed live to hospitals around the world by Melodic Caring Project, bringing hope, connection and the power of music to those in need.