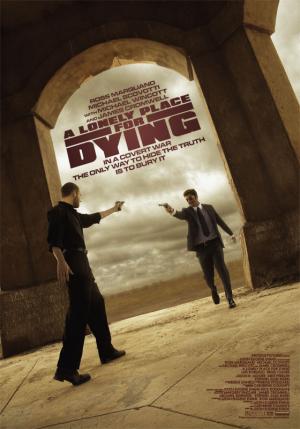 Saturday, Sep 22, 7:30 pm
A Lonely Place For Dying defies conventional wisdom, industry dogma and audience expectations. With fantastic acting, a great script, over 300 visual effects, a 50 minute original score and a top-notch 5.1 surround sound mix the film looks and feels like a studio film...and yet, it is anything but. It's a cold war spy thriller that challenges genre expectations by placing character development and well-crafted dialogue side-by-side with gun battles, fist fights and aerial bombing raids. It's a high-tech production disguised by it's devotion to classic '70's cinema. It's an intimate art house film and a multiplex popcorn flick.

 
It is 1972. An abandoned Mexican prison sits alone in the dusty Chihuahua desert. KGB mole Nikolai Dzerzhinsky waits for his contact from the Washington Post. Dzerzhinsky holds explosive evidence against the CIA; information he will trade for asylum in the United States. Special Agent Robert Harper must obtain this evidence and kill Dzerzhinsky or risk the end of his CIA career. As the two men hunt each other they discover that the sins from their past destined them for this deadly confrontation.
 
Directed by: Justin Eugene Evans
 
Starring: Ross Marquand, Michael Scovotti, Michael Wincott, and James Cromwell
 
Admission Prices*:
General: $9.00
Seniors, Students and Active Military: $8.00
Members: $7.00
Children 12 and under: $6.00
Bargain Matinee Prices (all shows before 6:00pm)
General: $7.00
Members: $5:00
Children 12 and under: $4.00
 
Your membership with the Lincoln Theatre saves you $2.00 per film ticket.
 
*All prices include a 50¢ Preservation Fee that goes directly into our capital account for films.
 
Monday film screenings are part of the Lincoln Theatre Member Mondays! Click here for details.
 
Film dates and times are subject to change and extended runs. Please check back here, or our phone message at 360.336.8955, day of show.