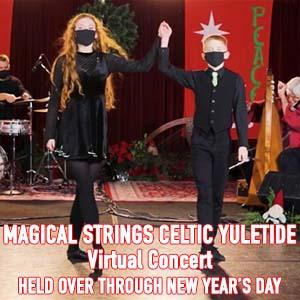 Sunday, Dec 13, 3:00 pm

to

Sunday, Jan 3, 11:59 pm

DUE TO POPULAR DEMAND: The performance will remain exclusively available to ticket purchasers through the Holidays. You'll be able to stream the December 13 performance through New Year's Day. Tickets will be available for purchase until 3:00pm New Year's Eve. We will send out links each day at 5:00pm with the final link going out on New Year's Eve at 3:00pm.
Enter the timeless realm of Celtic Yuletide!  From the comfort of your own home. A virtual celebration!
Click HERE to print a PDF of the Yuletide 2020 Program.
For many in the Northwest, it wouldn't be the holidays without the harps, dulcimers, and energetic Celtic sounds of acclaimed family ensemble Magical Strings. The tradition continues this year, as Magical Strings announces its 42nd triumphant year of annual Celtic Yuletide Concerts taking place virtually throughout Puget Sound in December 2020!  Surprises lie in wait…
The Boulding Family's musical celebration of the holiday season is a treasured tradition in Mount Vernon – one that will continue despite the limitations of the global pandemic. While we can't come together in person with each other and the Boulding family this year, please join us online to celebrate the season. 
As always, Pam and Philip Boulding will be joined by their children, grandchildren, and select guests for an afternoon of enchanting Yuletide music. The Bouldings perform on Celtic harps, hammered dulcimers, whistles, strings, percussion and harp-like instruments from around the world.  Guests add Irish step dancing and drumming for a festive and memorable performance.  
About Magical Strings
Philip and Pam Boulding founded Magical Strings in 1978, the same year they began the Celtic Yuletide Concerts with their family. They have performed throughout the U.S., Canada, Ireland and Japan, toured and recorded with Dan Fogelberg, appeared on Garrison Keillor's "A Prairie Home Companion," and recorded 21 albums on four labels. Once called the "Von Trapps of the Northwest" by local media, their love of music is embraced by their five grown children  and six grandchildren, most of whom return each year to join the family band for the Yuletide Concerts.
Magical Strings newest CD release, Fairy Wind captures the exuberant spirit of Philip and Pam's journeys to Ireland and beyond, with 15 sparkling tracks recorded at Big Red Studio, featuring their newest compositions including "The Hermit's Cave" and "Tigh Eamon" along with many surprises.  CDs will be available through their online store HERE.
What concert-goers say about Celtic Yuletide:
"…each year it just becomes more magical!"
"…haven't missed a show in 30 years!"
"Our favorite Christmas tradition!!"
Advance Tickets: $20 single ticket; $30 group ticket + applicable fees. A $45 donar ticket is also available to help support the artists and venue during COVID. Lincoln Theatre Members will automatically receive $2 off when you log in to your account.
Thank you to the City of Kent WA for their support of this concert!