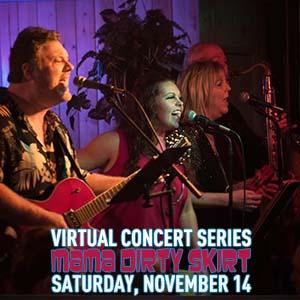 Saturday, Nov 14, 7:30 pm


Stream MAMA DIRTY SKIRT Live from the Lincoln Theatre's Stage! You'll find the stream going live at 7:00pm Novmeber 14 on our YouTube Channel. The concert begins at 7:30pm.
Mama Dirty Skirt has been performing the hits of Classic Rock, Motown, Rhythm and Blues for the last 3 years all around Skagit County. You may have seen them at past years Skagit Woodstock, Anacortes Arts & Waterfront Festivals, or Brewfest on the Skagit, not to mention countless bar gigs and private parties. Rich harmonies and bluesy vocals combine with crafty instrumentalists and inventive solos. Lead singers rotate throughout the show backed by a full sound that keeps you tapping your toes. We have really missed live performing over the last seven months and are thrilled to be coming to you live from the Lincoln.
Support for the series comes from Mr. Don Wick, Dimensional Communications, Logan Creek and JRivera & Associates. A big thank you to to Colby and Brett from Dimensional Communications for their technical assistance. Virtual Portrait Support: Wendy and Roger Ragusa, Susan Wilson and Eric Hall, Duncan West and Mary Deaton.
The concerts will be streamed free on Youtube with donations accepted. Proceeds will be split 50/50 between the performers and the Lincoln Theatre Center Foundation.
Artists: Are you ready to get back on stage? Please email roger@lincolntheatre.org if you are interested in being a part of this series.
Sponsors: Would you like to help offset crew and licensing costs? Low cost sponsorships are available. Cilck HERE for a PDF to the sponsor agreement. Please email roger@lincolntheatre.org for more information.