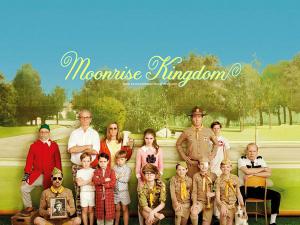 Thursday, Aug 16, 7:30 pm
We're bringing back this whimsical comedy from Wes Anderson for another week!
 
Set on an island off the coast of New England in the 1960s, the film follows a young boy and girl falling in love. When they are moved to run away together, various factions of the town mobilize to search for them and the town is turned upside down – which might not be such a bad thing.
Starring: Bill Murray, Bruce Willis, Edward Norton, Frances McDormand, Harvey Keitel, Jared Gilman, Jason Schwartzman, Kara Hayward, Tilda Swinton
 
Director: Wes Anderson
 
Reviews:
 
94% on the Tomatometer
 
'Warm, whimsical, and poignant, the immaculately framed and beautifully acted Moonrise Kingdom presents writer/director Wes Anderson at his idiosyncratic best.'
 
New Orleans Times-Picayune
Reviewed by: Mike Scott
 
A thoroughly endearing journey, and one of the most enjoyable and touching movies to land in theaters so far this year.
 
Miami Herald
Reviewed by: Rene Rodriguez
 
The film is precious and adorable, but it isn't naïve, and the movie breathes so deep that Anderson even gets a real performance out of Willis (this is his best work in years).
 
St. Louis Post-Dispatch
Reviewed by: Joe Williams
 
The best film of the year and perhaps the purest love story in cinematic history.
 
Philadelphia Inquirer
Reviewed by: Steven Rea
 
The usual complaints and caveats about Anderson - he's precious, his characters have no grounding in the real world - can be made about Moonrise Kingdom, but so what? This is his seventh feature, he has been working with a gang of collaborators in front of the camera and behind, and his worldview gets richer, and more revealing, even as the view from his lens gets smaller, closer, almost two-dimensional in its oddball tableaux.
 
San Francisco Chronicle
Reviewed by: Amy Biancolli
 
The formality of Moonrise Kingdom - the orderly structure and dreamlike perfection of it all - is as poetic as any film I've seen this year.
 
Boston Globe
Reviewed by: Wesley Morris
 
Moonrise Kingdom is Anderson's seventh movie, and it's the first since "Rushmore" that works from the opening shot to the final image.
 
Salon.com
Reviewed by: Andrew O'Hehir
 
Rapturous and hilarious.
 
The A.V. Club
Reviewed by: Scott Tobias
 
Moonrise Kingdom is Anderson's most completely satisfying film since the one-two of "Rushmore" and "The Royal Tenenbaums," in part because it's the perfect distillation of both
 
Admission Prices*:
General: $9.00
Seniors, Students and Active Military: $8.00
Members: $7.00
Children 12 and under: $6.00
Bargain Matinee Prices (all shows before 6:00pm)
General: $7.00
Members: $5:00
Children 12 and under: $4.00
 
Your membership with the Lincoln Theatre saves you $2.00 per film ticket.
 
*All prices include a 50¢ Preservation Fee that goes directly into our capital account for films.
 
Monday film screenings are part of the Lincoln Theatre Member Mondays! Click here for details.
 
Film dates and times are subject to change and extended runs. Please check here, or our phone message at 360.336.8955, day of show.