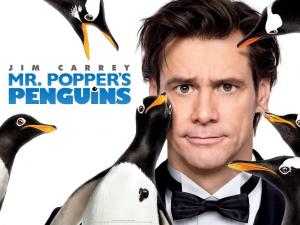 Saturday, Jul 28, 2:30 pm
Mr. Popper's Penguins is this year's film in the "Read the Book, See the Movie" program brought to you from the Mount Vernon City Library. A BBQ and Ice Cream Social will follow the film in Pine Square, courtesy of the Elk's Club. 
Mr. Popper (Jim Carrey) is a successful real estate developer in Manhattan. He lives in a posh apartment on Park Avenue, and is on the fast track to a partnership in a prestigious company. However, his life changes radically when he receives a final gift from his late father -- a live penguin, which is soon joined by five more penguins. The birds' antics soon win over Mr. Popper, and as he bonds with the penguins, his chilly relationship with his ex-wife (Carla Gugino) and kids begins to thaw.
Free event, donations accepted.