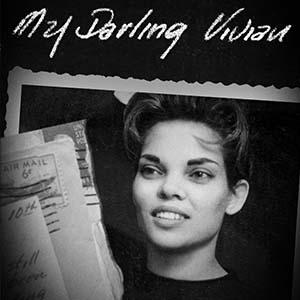 Friday, Jul 3 (All day)

to

Thursday, Jul 30 (All day)
VIRTUAL CINEMA OFFERING
OPENS Friday, July 3

My Darling Vivian (SXSW 2020 world premiere)
In 1951, Catholic schoolgirl Vivian Liberto meets handsome Air Force cadet Johnny Cash at her local San Antonio, Texas skating rink. Their whirlwind summer romance lays the foundation for a feverish three-year-long correspondence while Johnny is stationed in Germany. Thousands of letters later, the two marry upon his return in 1954. Within a year, a career blossoms and a family is started. By 1961, Johnny Cash is a household name, number one on the music charts, and perpetually on tour. Meanwhile, only two weeks postpartum, Vivian settles into their custom-built home in Casitas Springs, California with their four young daughters. Plagued by bobcats, rattlesnakes, all-hours visits from fans, and a growing resentment toward her husband's absence, Vivian is pushed to a near breaking point when she and her daughters are targeted by hate groups over her perceived race. In MY DARLING VIVIAN, we will meet the first Mrs. Cash as her daughters, Rosanne, Kathy, Cindy, and Tara, share with us first hand, for the first time, the entire story of love, isolation, fear, heartbreak, and survival.
"…thoroughly engrossing, often heartbreaking…the film is [a] love note to [an] enigmatic woman…who…'faded into negative obscurity' after her 13-year marriage to Cash ended in divorce." — STEPHEN L. BETTS, ROLLING STONE
Director: MATT RIDDLEHOOVER​
USA | English  | 2020 | Documentary | 90 minutes | NR 
$12 for a 72 hour rental period.
50% of your ticket purchase directly supports the Lincoln Theatre, while the remainder support independent filmmaking & distribution.
HOW TO WATCH: TELEVISION (via the the downloaded APPLE TV or ANDROID app, or CHROMECAST) MOBILE DEVICE (iPhone, iPad, Android) | COMPUTER (by clicking on the link below).
For more information on how the rental works:
Click the button above, or follow THIS LINK to purchase entry to our digital screening room.
Create an account – it's very easy! – and complete your purchase, you can also gift a screening to a friend of family member.
Watch as much as you like for 5 days!
For any questions regarding streaming, device, connection, or payment issues, The Film Collective can help you here.
For non-streaming questions, please feel free to reach out to us at admin@lincolntheatre.org