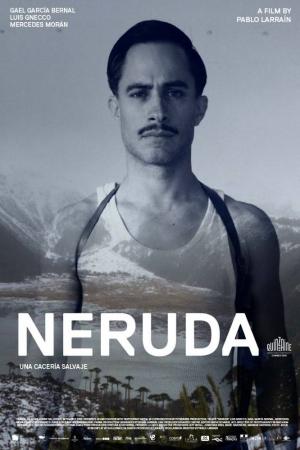 Saturday, Feb 18, 7:30 pm
In Pablo Larrain's (Jackie) second film of the year and second film this month at the Lincoln theatre, Luis Gnecco, one of Chile's most popular comedic actors, plays Pablo Neruda, and Gael Garcia Bernal, one of the Lincoln's favorite actors (Mozart in the Jungle, Y tu Mama Tambien, Rosewater), plays the investigator on his trail. 
 
Beloved poet Pablo Neruda (Luis Gnecco) is also the most famous communist in post-WWII Chile. When the political tides shift, he is forced underground, with a perseverant police inspector (Gael García Bernal) hot on his trail. Meanwhile, in Europe, the legend of the poet hounded by the policeman grows, and artists led by Pablo Picasso clamor for Neruda's freedom. Neruda, however, sees the struggle with his police inspector nemesis as an opportunity to reinvent himself. He cunningly plays with the inspector, leaving clues designed to make their game of cat-and-mouse ever more perilous. In this story of a persecuted poet and his obsessive adversary, Neruda recognizes his own heroic possibilities: a chance to become a symbol for liberty, as well as a literary legend.
 
Starring: Gael García Bernal, Luis Gnecco
 
Director: Pablo Larrain
 
In Spanish with English Subtitles 
 
What the critics are saying:
Certified Fresh (96%) on Rotten Tomatoes:
 
Inventive, intelligent, and beautifully filmed, Neruda transcends the traditional biopic structure to look at the meaning beyond the details of its subject's life.
CineVue, John Bleasdale
 
Gnecco has both breadth and subtlety. His Neruda is a complex and fascinating character study, a man fastidiously vain of his status but unconvinced by his own performance even as he enraptures a nation.
The New York Times, A.O. Scott
 
Mr. Larraín invites us to believe that history is on the side of the poets and the humanists, and that art will make fools of politicians and policemen. But he is also aware, as Pablo Neruda was, that history sometimes has other plans. 
Film Prices:
 
General: $10.00
Seniors, Students and Active Military: $9.00
Members: $8.00
Children 12 and under: $7.00
 
Sunday Bargain Prices:
 
General: $8.00
Members: $6.00
Children 12 and under: $5.00
 
Add $2.00 to the above prices for 3D screen
 
Your membership with the Lincoln Theatre saves you $2.00 per film ticket.
 
*All prices include a $1.50 Preservation Fee that goes directly into our capital account for preservation of the Lincoln Theatre and its programs. Film tickets are only available at the door beginning 45 minutes before the first screening of the day. This saves you, the ticket buyer the fees associated with purchasing online. Never fear – there are plenty of seats!
 
Members have benefits: Click here for details.
 
Film dates and times are subject to change and extended runs. Please check back here, or our phone message at 360.336.8955, day of show.